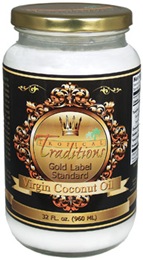 We have a winner!!!  Congratulations to Vickie W. from Washington!
I am so excited to announce that Tropical Traditions is going to send one of my lucky readers a FREE full sized Tropical Traditions quart of Gold Label Virgin Coconut Oil (a $40 value.)   There are just two requirements to enter this contest:
1.  You have until March 31, 2012 to comment below as to why you want to try coconut oil
2.  Sign up for the Tropical Traditions Newsletter here – Tropical Traditions Newsletter
Coconut oil is quickly becoming an all star, multi tasking, super hero in just about every skin/hair/health category you can imagine.  I have been reading a lot about the incredible benefits of coconut oil from heart health, to help with diabetes, to skin/hair/nails, and on and on.  I was more than a little curious about the coconut oil phenomenon and I wanted to see if it would truly promote healthy skin.
There is a definite coconut craze going on out there and I needed to figure out why.  I was fortunate enough to receive a bottle of coconut oil from the highly regarded Tropical Traditions and began experimenting with this unique oil right away.
Let me just say that I think my husband thought I had completely lost it.  Every time he turned around I was using my new found love for something new.  This oil is very different than anything I have used before.  It starts out as a solid but because it has a very low melting point it melts as soon as it touches anything warm, such as skin.
Because it has so many health benefits I thought my children should be taking it.  So I gave them each a spoonful and let me tell you it was quite a show.  My eleven year old son put his spoonful in his mouth and gave a look like yum (it has a mild coconutty taste) and then it began to melt in his mouth and became oily.  His face went from yum, to…what in the world are you giving me?  He described it as "it was like eating chapstick."  He really isn't too far off.  Many people talk about how they take 2-3 tablespoons a day and they do fine with it.  I think some people can take it like that while others have to be more creative.  My 9 year old daughter can take it right off the spoon no problem and my 3 year old is mixed.  I stir it into my tea to reap the health benefits because I also struggle a little with taking it straight from the spoon.
Because this oil is so healthy I now use it for cooking (it's the most stable oil available and actually better for you than olive oil), I put it in my tea, I take my makeup off with it, I put it in my hair, I apply it on top of my skin care products at night, and I use it on dry skin for everyone in the family. There are so many uses for this incredibly beneficial oil, it's absolutely crazy!  In fact there are over a hundred uses!  You can read more here; How to Use Coconut Oil: There are hundreds of uses!
I have found that since taking my eye makeup off with coconut oil, my lashes seem healthier and possibly even longer; which makes me incredibly happy!   I have tried using the oil at night over my skin care products to seal everything in and as long as I use just a small amount (a dime size warmed up in my hands) it sinks in beautifully.  I have to warn you though that if you use too much your skin will seem oily, it won't cause any harm but will feel very slick.  I also take a dollop, warm it up in my hands and slather it all over my hair before going to bed.  My hair is actually beginning to seem healthier and more youthful since I began this ritual.
I am always so excited to find something that has so many benefits for the entire family. The Tropical Traditions Gold Label Virgin Coconut Oil has so many uses and I believe as time goes on I will discover even more uses.  How many products can you think of that can do all that?  I'm so excited for one of you to get to experience the benefits of this very unique oil and can't wait to hear what new and exciting uses you discover.
Comment below and then head on over to Tropical Traditions to sign up for their newsletter so you can begin your journey with the incredible coconut!
Disclaimer: Tropical Traditions provided me with a free sample of this product to review, and I was under no obligation to review it if I so chose.  Nor was I under any obligation to write a positive review or sponsor a product giveaway in return for the free product.