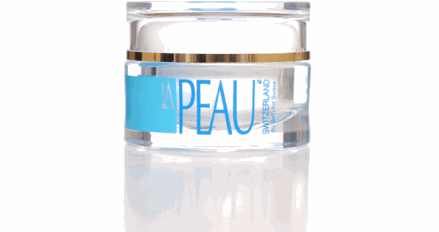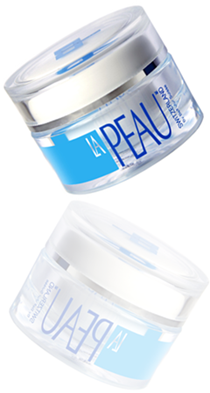 La Peau Swiss Skin Care
About 28 days ago I was sent a beautiful jar of La Peau anti-aging night cream from Carla-Maria Khanjian, one of the exuberant and passionate sisters behind this scientifically advanced line. I decided to give this luxurious cream 28 days because in much of the press surrounding La Peau (and there is plenty of it) claims that after just 28 days your skin will feel firmer and look visibly younger.
Well, 28 days later (and it went really fast)…. and I have to say that this unique cream/gel is truly an amazing topical skin care product. The texture is sublime and the results are nothing short of magical.
The line consists of just 3 products; a day cream, night cream, and an eye contour cream. I have just had the pleasure to try the night cream but hope to eventually get my hands on the day cream and eye cream. If they are even remotely as good as the night cream then the entire line is a winner.
La Peau is an innovative Swiss line based on years of skin cell research. The star ingredient, Be Cell, is composed of antioxidants, amino acids, and vitamins all with proven anti-aging properties.
The texture is unmatched as it is a sort of gel/cream consistency that glides beautifully over the skin and then melts in without a trace. Many night creams are rich and thick and can feel heavy or greasy on the skin but the La Peau Night Cream feels luxuriously light leaving the skin soft and supple.
I decided to try the product for at least 28 days before sharing my experience with you but to be perfectly honest I knew within a few nights that this cream was going to be great. La Peau makes my skin unbelievably soft, dewy, and refreshed. It makes your skin so soft you actually have to stop yourself from touching it. I look forward to gliding this nutrient dense cream on my face at the end of the day. It feels incredibly luxurious as it slides over the skin and you know you are loading your cells with healthy nutrients.
Benefits of La Peau
Increases collagen and elastin production
Improves elasticity
Increases hydration
Heals and regenerates
Reduces lines and wrinkles
It has a proprietary delivery system designed for better absorption of antioxidants and vitamins without clogging your pores.
Each product contains Be Cell, a molecular complex based on stem cell research.
This line is backed by a world renowned scientific advisory board from Geneva and Stanford Universities.
La Peau has been granted the Swiss label of excellence; SwissCos. This label is the highest recognition for Swiss elite cosmetic products. It's a well-deserved recognition as the two sisters behind La Peau work passionately and with the highest degree of integrity to bring the most effective anti-aging products to you and me so that we can look our best.  If you would like to check out this amazing line for yourself visit www.LaPeauSkincare.com