Valia Skin Care Reveals Luminously Youthful Skin!

Valia Skin Care is, in one word, AMAZING!! This exceptional skin care line is based on the Japanese belief of celebrating beauty in the state of becoming; hence it's gorgeous Bloom collection. It's created using the purest and highest quality ingredients that work both internally as well as externally to fight the signs of aging and bring on a bright youthful glow to your skin.
Steeped in gentle and tranquil Japanese philosophy, Valia combines antioxidant rich and plant-based supplements with pure and effective topical products. And let me tell you they are truly exceptional products and make a huge difference in the appearance of your skin.
These products work together from the inside out to help make your skin look and feel younger naturally.
Valia's cornerstone product, Bloom, is a powerful anti-aging supplement that infuses your cells with anti-oxidizing and stress reducing properties. Bloom is loaded with omega 7 and xanthones which help the body fight free radicals, ramp up immune function, and increase fat cell metabolism. Bloom works at a cellular level prompting healthier cellular function which in turn beautifies you skin, tones your body, protects your cells from harmful pollutants, and encourages healthier hair as well.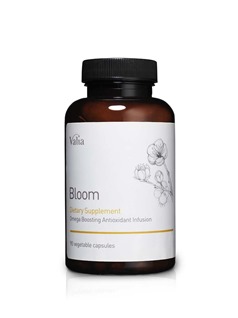 The topical products include a Purifying Wash, a Cleansing Milk, and the Yuzu Hydrating Crème.
The cleansers do a beautiful job of gently cleansing, detoxifying, and purifying the skin without stripping it.
The Purifying Wash (for all skin types) promotes cell turnover resulting in a brighter, more radiant, and smoother complexion. It leaves the skin feeling refreshed and awake; simply clean and smooth!
The Cleansing Milk (for normal to dry but also including blemish prone skin) clarifies the skin and gently removes impurities. It also helps to reduce oil build up on the skin helping to prevent clogged pores.
The Yuzu Hydrating Crème (for all skin types) is a beautifully light cream designed to restore moisture, improve elasticity, and promote a youthful and glowing complexion. This superior cream contains ingredients such as yuzu (a Japanese grapefruit), Shea butter, coconut alkanes, green tea, papaya, rice bran oil, and so much more!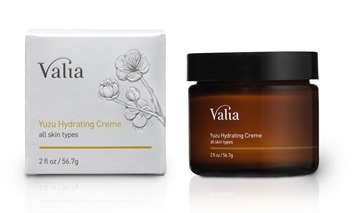 Since using these products, I have not only noticed a drastic improvement to the way my skin looks (it looks more even, glowing, and healthy,) but I have also noticed some weight loss (not much but still, I'll take it,) and softer hair! These products work from the inside as well as from the outside to seriously improve your skin and your overall health.
Valia Skin Care is an exciting new line that really works!
It's simple, pure, plant-based, rich in Japanese tradition, and visibly improves your skin gently and naturally.
By combining Bloom, one of the cleansers, and the Yuzu Crème your skin will glow from within, you'll notice more energy, and your inner beauty will be released for the world to appreciate.