This post may contain affiliate links. I may receive commissions for purchases made through links in this post. I will never recommend any products that I don't believe in. Please read my Disclosurefor more info.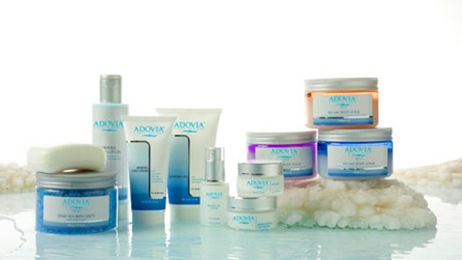 Click here for Adovia Specials!
Adovia is an amazing skin care line that combines minerals from the Dead Sea with rich herbs and oils from the earth to produce products that are exquisitely effective.  They soothe, heal, repair, and rejuvenate the skin making it look younger and healthier.
Adovia contains a high concentration of minerals from the Dead Sea along with antioxidants and vitamins that drench your skin cells with vital nutrients.  These products penetrate your skin making it more beautiful with each use. They are gentle yet powerful and make your skin glow without any irritation.
Adovia uses only the highest quality minerals from Dead Sea salt along with herbs and oils from around the world.  It's a very unique line that creates products that are rich, luxurious, and feel amazing as they soak into the skin.  They deeply nourish and replenish the skin making it more luminous.
Adovia's Dead Sea mineral-based products work to restore your skin's natural balance, allowing it to renew and rebuild itself in order to achieve visibly smoother, healthier and younger looking skin.
My skin loves Adovia and just drinks in the luscious nutrients leaving it glowing with health.  I have loved every product that I have tried from this line and adore the fact that I am feeding my skin cells nutrients that make it look and feel healthy.
Adovia is used by some of the top spas around the globe because the products are extremely gentle and effective.  You can have that soothing spa experience at home with this fantastic line.  Adovia will help you encourage younger and more beautiful skin with products that are drenched with the magical elements of the Dead Sea.