This post may contain affiliate links. I may receive commissions for purchases made through links in this post. I will never recommend any products that I don't believe in. Please read my Disclosurefor more info.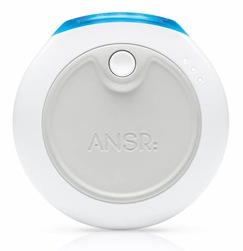 Click here for Ansr Beam deals
Ansr Beam is a unique handheld tool that incorporates both red and blue LED (Light Emitting Diode) therapies to fight acne and rejuvenate your skin.  It offers two different treatments in one super convenient device.
Ansr Beam's blue light LED's gently penetrate into your skin killing the bacteria that causes acne.  It's a simple alternative to preventing and treating existing acne.  The blue wavelengths permeate blemishes wiping out the destructive acne germs.
Red light therapy penetrates deeper into the layers of your skin healing, repairing, renewing, and rejuvenating.  This form of light therapy greatly improves skin tone and texture, shrinks pores, reduces lines and wrinkles, and speeds up the healing process.  It's an unbelievable option for obtaining more vibrant and beautiful skin.
Combining these two treatments into one tool is genius.  The blue light wavelengths kill the acne bacteria while the red light wavelengths speed up healing, reduce redness, and renew your complexion.  You have two incredible technologies wrapped up into one great tool.  On one hand you have a therapy that wipes out blemishes and then you have a complimentary therapy that heals and rejuvenates your skin making it look more youthful.
The Ansr Beam starter kit includes the handheld Beam, a charger, the Prep cleanser/exfoliator, a daytime treatment, and a nighttime treatment.  Each treatment contains salicylic acid which does a fantastic job of fighting acne.  When used along with the Ansr Beam your skin will look clearer, smoother, and younger.
This system is a great option for an at-home skin care tool that treats acne and promotes healthier and younger looking skin.  The Ansr Beam starter kit is an incredible value that inexpensively introduces you to the world of light therapy.