This post may contain affiliate links. I may receive commissions for purchases made through links in this post. I will never recommend any products that I don't believe in. Please read my Disclosurefor more info.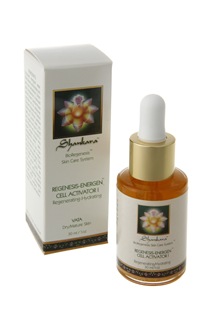 Shankara Regenesis-Emergen Cell Activator
The Shankara Regenesis-Emergen Cell Activator is an incredible serum-like treatment that absorbs into the skin beautifully.  My skin just drinks it in and loves the benefits of the amazing ingredients.
It repairs tissue, accelerates renewal, deeply hydrates, nourishes, and encourages beautifully healthy skin.  It really wakes up and oxygenates your cells as it feeds them naturally active plant and algae extracts, phytoplankton, amino acids, and peptide complexes.
Benefits of the Shankara Regenesis-Emergen Cell Activator
Deeply hydrates
Oxygenates
Repairs tissue
Significantly reduces lines and wrinkles
Renews
Soothes
Purifies
Stimulates collagen production
It contains a proprietary and exclusive Regenesis-Emergen Bio Complex which includes Ayurvedic herbal extracts and elements of gold, rhodium, and iridium which are rare and powerful conductors of energy.  The effects of this unique Bio Complex results in truly extraordinary anti-aging skin care.
I really love this completely one-of-a-kind skin care line.  The products are exceptional, innovative, and extremely effective.  The Cell Activator feels light but packs a powerful punch.  Tests have shown that it significantly reduces lines and wrinkles while increasing cellular oxygen and hydration.
Key Ingredients:
Neem purifies the skin.
Brahmi helps with skin regeneration, repairing damage, and renewing the skin.
Amla protects the skin and prevents damage while boosting collagen production.
Ashwagandha enhances the effectiveness of the other ingredients and helps the skin adapt to lifestyle and environmental stressors.
The Shankara Regenesis-Emergen Cell Activator has options for every skin type including:
REGENESIS-ENERGEN CELL ACTIVATOR I   Skin Type:  Dry Skin (Vata) / Normal Skin (Pitta) / Sensitive Skin (Pitta)
REGENESIS-ENERGEN CELL ACTIVATOR II  Skin Type: Combination Skin (Pitta)/ Oily Skin (Kapha)
BLEMISH SUPPORT CELL ACTIVATOR Skin Type: Blemished Skin