This post may contain affiliate links. I may receive commissions for purchases made through links in this post. I will never recommend any products that I don't believe in. Please read my Disclosurefor more info.
Get Younger Looking Skin By Nourishing Your Body With Antioxidants.
In order to have truly beautiful skin you have to feed it from the inside as well as from the outside.  Your body consists of 63 trillion cells that are constantly under attack by unstable molecules called free radicals.  These unstable molecules lose electrons and then steal them form healthy cells, destroying them in the process.  Free radicals can eventually break into your cell membranes and destroy the DNA inside.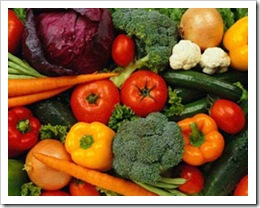 So, where do these destructive free radicals come from?  You are exposed constantly to external factors that form free radicals such as smoking, alcohol, air pollution, stress, infection, and toxins.  Because you can't avoid all of these factors you need a way to protect your cells and fight off any free radical attacks.
Antioxidants are the "super hero's" that come in and fight your battles against the free radicals.  These naturally occurring compounds help prevent oxidative damage to your cells.  By consuming antioxidants regularly you may be able to prevent cancer, edema, Alzheimer's disease, rheumatoid arthritis, hardening of the arteries, and premature aging.
Some antioxidants are well known and you may be getting some or all of them.  For example, some of the more common ones are:
Vitamin C – citrus fruits, bell peppers, broccoli, and cauliflower
Beta Carotene – carrots, sweet potatoes, spinach, and squash
Vitamin D – salmon, tuna, milk, eggs, liver, beef, and sunlight
The antioxidants value is measured by ORAC and you want to look for foods with a high ORAC value.
| | |
| --- | --- |
| Fruit | ORAC Value |
| Carrots | 200 |
| Rasberries | 1,200 |
| Blueberries | 2,400 |
| Pomegranates | 3,037 |
| Wolfberry Juice | 3,472 |
| Mangosteen | 17,000 |
I have found a powerful liquid formula that combines antioxidant rich mangosteen with vitamins, minerals, aloe vera, and greet tea.  It is packed with antioxidants (an ORAC score of over 90,000) so you can protect and feed your skin, body, cells, and tissue and keep them safe from free radical attacks.  It's a simple solution for feeding your skin from the inside out and to put an end to premature aging.
You can try this nutrient dense liquid supplement by visiting Vemma – Nutrition for a Lifetime.