Blue Light Therapy Fights Acne Safely and Effectively!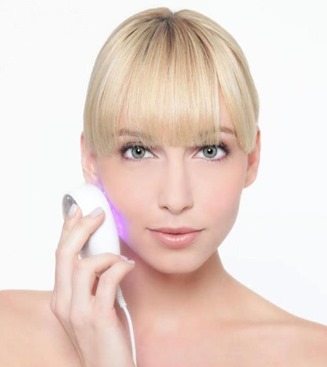 Blue Light Therapy Offers a Drug-Free Option for Fighting Acne!
See Recommended Systems Below and Save for a Limited Time
My expertise is in LED Light Therapy and I am here to answer any questions you might have before or after your purchase
The systems below are the Most Popular & Powerful Blue Light Systems Available!
Blue light therapy has been scientifically proven to fight acne easily, safely, and effectively. Both teens and adults can benefit tremendously from these powerful tools.
Blue LEDs at 415 nanometers penetrate into the skin where they destroy the acne causing bacteria, P. acnes. But, not only do these powerful wavelengths kill destructive bacteria; they also ease inflammation and stabilize the sebaceous glands which helps regulate your oil production.
Note: Blue LEDs have been shown to potentially cause damage to the eyes so with the full face systems you will need to wear goggles during your treatments and with handheld systems you will need to either wear protective goggles or avoid the eye area and never shine the LEDs directly into the eyes.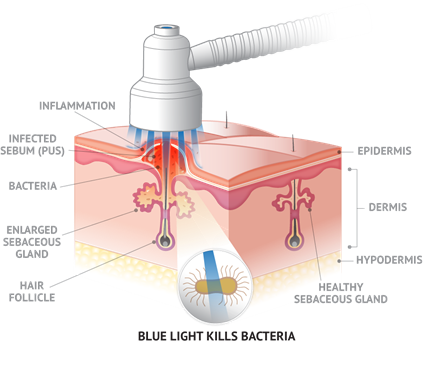 The wavelengths will work to:
Prevent breakouts
Heal existing breakouts
Kill acne bacteria
Diminish scarring
Regulate sebum production
Reduce redness
Reduce inflammation
Even out skin tone
It's a drug-free, chemical-free, and pain-free option for fighting and winning the battle against acne.
The following systems are the best in their class, produce exceptional results, are FDA cleared, and can be used at home making them simple and convenient.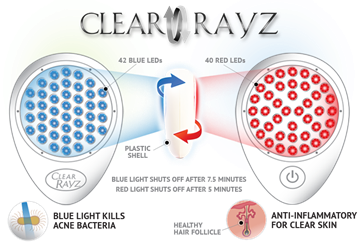 Clear Rayz $249 (5 year warranty)
The Clear Rayz is the 1st of its kind. This dynamic little tool has red LEDs on one side of the device then flip it over and you have blue LEDs on the other. No need to keep track of more than one head or device. It's size makes it extremely portable and having both red and blue LEDs in one system makes your results even better.
All my friends are noticing that my acne is disappearing and are asking me how I do it. My answer is Clear Rayz™. It is so easy and the results are fantastic! I love my Clear Rayz™.
By Isabelle, Age 17
My Clear Rayz has been amazing. I hate to admit this but I am 40 years old and I suffer from hormonal acne break outs. I have tried everything from serums, creams, face cleaners and nothing has worked. It breaks my heart to leave my house, i feel so self conscious and feel like people stare at me. After one of my friends told me about Clear Rayz, i went home and bought it right away. I am going on my 6th week and I only have 3 zits, yes 3, i can't believe I am happy about that. Thank you Clear Rayz for helping with my acne.
By Tina
I have suffered with acne for over 20 years and tried all the latest and greatest acne products available, but none of them have beat the horrible cycle of acne. With Clear Rayz™ I feel like I have made a break-through. I can see continued progress in the reduction of acne lesions.
By Elisabeth, Age 34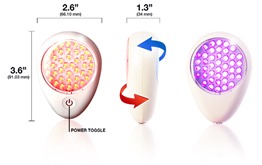 Clear Rayz $249 + Free Shipping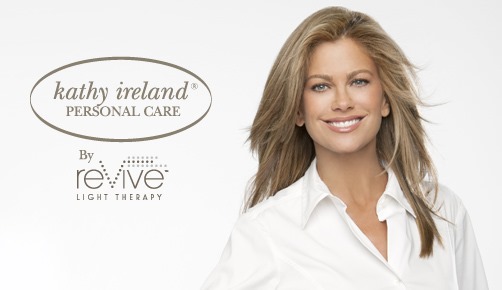 reVive Beauty Kit only $219 – $300 Value (1 year warranty)
The reVive Beauty Kit contains a blue head, a red/infrared head, a peptide serum, and a travel bag making it easy to keep everything together. Simply change the head when you do your next treatment and you're ready to go. This system is more budget friendly but offers fantastic results as well as simplicity.
"I purchased the LED system specifically for adult acne and aging. I have seen such great results that I bought a system for my daughter. It is a phenomenal machine."
CI, FL.
"I have two teenage sons that have been struggling with acne and we did not want to go down the Accutane path with all the potential side effects.  We decided to try the blue light therapy first and within days we saw significant results.  Today they both have clear skin and at the first sign of pimple they use the lights to stop it.  We have referred this system to many of their friends with similar results."   Donna N, CO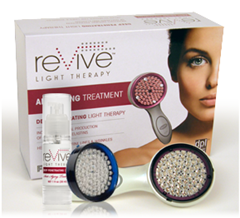 reVive Beauty Kit $219+ Free Shipping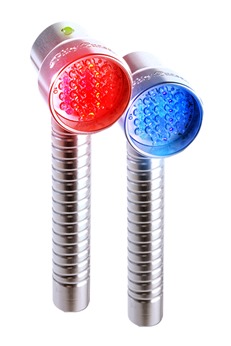 Baby Quasar Power Duo $675 (Lifetime warranty)
These two high-end devices are some of the most powerful systems on the market while their effectiveness and quality have created quite a following. These sleek tools feel professional and offer impressive results. You simply divide your face into 6 sections and treat each section for 3 minutes. You will do the Baby Blue one day and the following day treat your skin with the red Baby Quasar PLUS.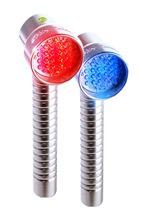 Quasar Power Pack $675 + Free Shipping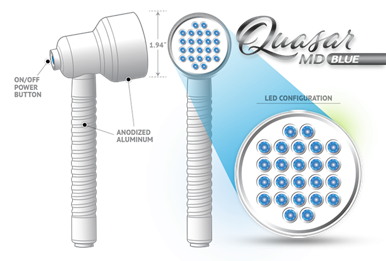 Quasar MD Blue $595 (Lifetime warranty)
The Quasar Blue MD is used by dermatologists because of its power, convenience, and effectiveness. It's larger than its sister products; Baby Quasar. Treating larger sections of the face makes the treatment time much faster and the power doesn't give acne a fighting chance.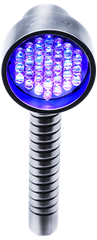 Quasar MD Blue $595 + Free Shipping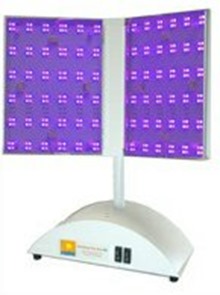 Caribbean Sun Red/Blue Pro $345 (10 year warranty)
The Caribbean sun Red/Blue Pro is a large 2 panel hands-free system that contains both red and blue LEDs. The size of this system allows you to simply sit in front of the panels (with goggles) and relax while the wavelengths go to work fighting off acne.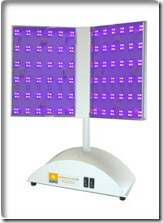 Caribbean Sun Red/Blue Pro $345 + Free Shipping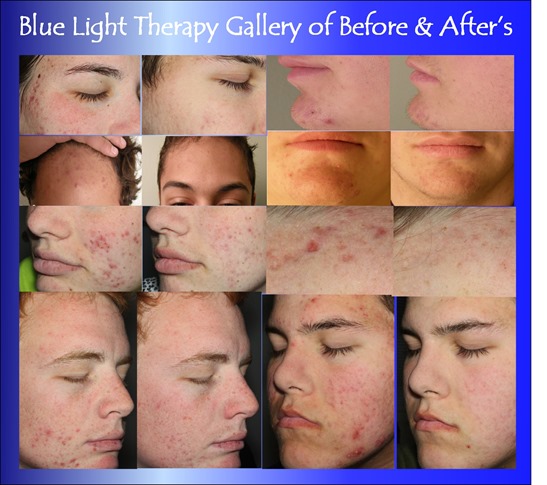 Blue Light Therapy Studies
Clinical Efficacy of Self-applied Blue Light Therapy for Mild-to-Moderate Facial Acne
http://www.ncbi.nlm.nih.gov/pmc/articles/PMC2923954/
Conclusion.
Subjects evaluated self administration of the blue light treatment according to the device's labeling as being safe and effective. The study showed that daily self treatment using the device for mild-to-moderate inflammatory acne reduced the number of acne lesions significantly. Moreover, the study demonstrated a significant improvement of the subjects' skin conditions. Subjects included in the study were able to safely and effectively administer self treatment with the device and felt confident doing so.
An assessment of the efficacy of blue light phototherapy in the treatment of acne vulgaris
http://www.ncbi.nlm.nih.gov/pubmed/18789052
CONCLUSIONS:
We believe that blue light does appear to have some role in the management of acne and may be beneficial for the treatment of a select group of mild to moderate acne patients.
Blue and red LEDs make for a powerful duo!
When you combine red light therapy with blue light therapy you have an unparalleled duo with no side effects, no pain, no drugs, and no chemicals. Red LEDs have the unique ability to jump start numerous healing, reparative, and stimulating processes.
Adding red light therapy into the mix speeds up the healing process, reduces scarring, and rejuvenates the skin. It's important to alternate between the two therapies in order to gain optimal results; one day treat your skin with blue light therapy and then next you can enjoy a red light therapy session the following day.
Red & Blue Combination Studies:
Blue and red light combination LED phototherapy for acne vulgaris in patients with skin phototype IV
http://www.ncbi.nlm.nih.gov/pubmed/17111415
CONCLUSION:
Blue and red light combination LED phototherapy is an effective, safe and non-painful treatment for mild to moderately severe acne vulgaris, particularly for papulopustular
Combination blue (415 nm) and red (633 nm) LED phototherapy in the treatment of mild to severe acne vulgaris
http://www.ncbi.nlm.nih.gov/pubmed/16766484
CONCLUSIONS:
Combination blue and red LED therapy appears to have excellent potential in the treatment of mild to severe acne. Treatment appears to be both pain- and side effect-free.
Light therapy in the treatment of acne vulgaris
http://www.ncbi.nlm.nih.gov/pubmed/14756640
CONCLUSIONS:
Laser and light-based therapy is a safe and effective modality for the treatment of mild to moderate inflammatory acne vulgaris. Amelioration of acne by light therapy, although comparable to the effects of oral antibiotics, offers faster resolution and fewer side effects and leads to patient satisfaction.