This post may contain affiliate links. I may receive commissions for purchases made through links in this post. I will never recommend any products that I don't believe in. Please read my Disclosurefor more info.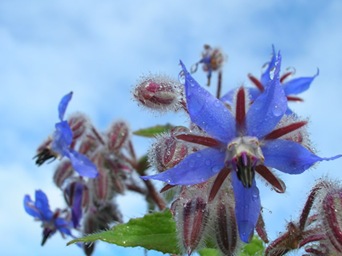 Borage seed oil, although not a pretty name, comes from an exquisitely dazzling flower.  It's a beautiful star-shaped flower that ranges in color from a stunning bright blue to a spectacular deep purple.  This unique flower is believed to bring peace into the home.
Borage seed oil is rich in two essential fatty acids; gamma linolenic acid (GLA) and linoleic acid (LA.)  These two important fatty acids are exceptionally beneficial for people with dry and/or flaky skin.
For centuries herbalists have used borage seed oil for inflamed skin conditions such as eczema, psoriasis, acne, rosacea, as well as prematurely aged skin.  This rich oil penetrates into the skin where it nourishes, soothes, softens, and moisturizes your skin.
Studies have shown that lotions and creams containing this valuable oil significantly decrease skin roughness and water loss.  After regular use the skin looks smoother, softer, and more radiant.
Because borage oil is so effective you can find it in many natural skin care products.  You can also use this oil mixed in a 10% ratio with other wonderful natural plant oils such as argan oil, rosehip seed oil, or kukui nut oil.  It makes a wonderful addition to any arsenal of plant oils and essential oils as it promotes soft and healthy skin.