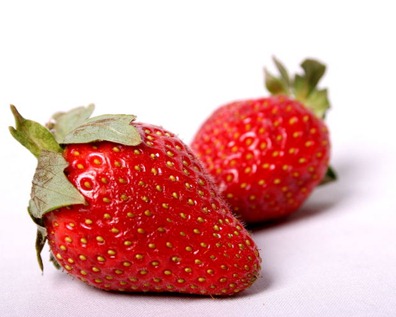 Can you actually protect your skin from luscious strawberries?  Scientists from universities in Spain and Italy have discovered that strawberry extract contains photo protective properties that may be beneficial in protecting your skin from harmful UVA rays.
The researchers believe that the UVA photo protective ability within strawberries is due to the high polyphenol content which also contains flavonoid anthocyanin.  These two powerful compounds have many beneficial roles including those of antioxidant and anti-inflammatory which are known to encourage healthier skin.
The scientists prepared fibroblast cell cultures and then carefully added strawberry extract at different levels; .05mg, .25mg, .50mg with the control culture containing zero.
The cultures were then exposed to a dose of UVA radiation comparable to 90 minutes of prime time sun exposure.
The cultures were then analyzed and the researchers found that the fibroblasts with the addition of .50mg of strawberry extract showed substantial photo protective activity.  This level of strawberry extract also increased cellular proficiency as well as reduced DNA damage.
Although this research is still in the beginning stages, it is showing great promise and I wouldn't be surprised if this exciting extract starts appearing in all sorts of lotions and potions.
The team of scientists responsible for this study has plans to examine the effects of strawberry extract in skin care creams versus consuming strawberries.  I look forward to learning more about this yummy ingredient and I'll keep you updated with any new revelations.  You can read more about this exciting study here:   http://pubs.acs.org/doi/abs/10.1021/jf205065x