This post may contain affiliate links. I may receive commissions for purchases made through links in this post. I will never recommend any products that I don't believe in. Please read my Disclosurefor more info.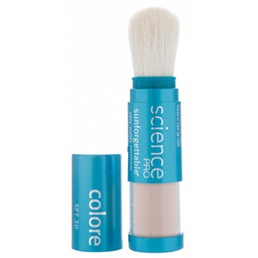 We all know how important it is to wear sunscreen every day, but did you know that sunscreen stops working after about 3 hours?  So it's a good idea to reapply, but who wants to layer a sunscreen over their makeup?  I don't, that's for sure!
That's exactly why I love the Colorescience Sunforgettable Mineral Powder Protection SPF 30.  It's a lightweight mineral powder that comes in a brush so all you have to do is buff it on throughout the day, it's easy and mess-free. 
It's a very light and sheer powder that offers incredible sun protection.  It works fantastic over skin care and/or makeup so there is no worry about your makeup smudging when you apply it.  It makes you that much more likely to actually apply more sunscreen when it doesn't mess with your makeup.
I really love the fact that this sunscreen protects my skin while at the same time makes my skin look more even, smooth, and shine-free.  The Colorescience Sunforgettable Mineral Powder Protection SPF 30 also nourishes your skin which helps your skin to look more healthy overtime.
It's so easy to use, just brush it on the skin in little circular motions to release the powder and then buff away until you get the coverage you like.  Because the powder is stored inside the brush it makes this sunscreen very portable and great for on the go touch ups.  It's even a quick and simple sunscreen to whip out and use on your kids when you head outdoors.