This post may contain affiliate links. I may receive commissions for purchases made through links in this post. I will never recommend any products that I don't believe in. Please read my Disclosurefor more info.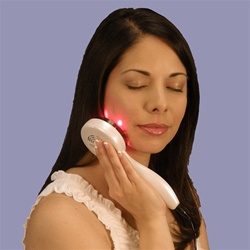 The dpl Nüve Beauty System Fights Aging
Okay, so if you have been to RevealGreatSkin.com before then you know how passionate I am and how strongly I believe in red light therapy, especially the DPL Therapy System.  Red light therapy, hands down, is the best anti-aging technology available if you want something that offers no down time, no side effects, no needles, no doctor, etc.  Well, I am thrilled to let you know that there is a handheld version of the DPL System that is designed specifically for wrinkles and making the skin look younger.
The dpl Nüve Beauty System is a convenient, light weight, and affordable system that makes it effortless to fight aging especially around your eyes.  It comes with two heads that work to drastically reduce wrinkles and smooth out the skin.
The red head contains 60 red LEDs (light emitting diodes) at 625 nanometers.  These lights penetrate deep into the layers of the skin stimulating your collagen and elastin production.  As these two crucial proteins increase you will see your lines and wrinkles fading and becoming much less visible.   YEA!!
The purple head contains 4 red LEDs and 54 infrared LEDs at 830 nanometers.  The powerful wavelengths from this head penetrate even deeper into your skin stirring up all sorts of positive reactions.  They promote healing, repairing, renewal, stimulation, rejuvenation, and energize your cells.
I have been using the dpl Nüve Beauty System for about a week now and absolutely LOVE it!  I love the fact that I can place the lights exactly where I need them the most; directly under my eyes, I love the warmth it emits, and I love how easy this system is to use.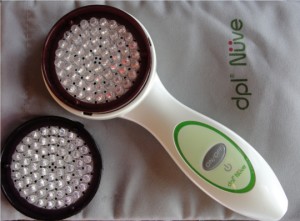 The instructions recommend skipping a day in between treatments as well as wearing the goggles that are supplied when using the red head.   But, being the compulsive anti-aging woman that I am, I do the treatments every day alternating between the two heads and I don't use the goggles.
With that being said, if you have sensitive skin or are sensitive to light then I really recommend that you follow the instructions.  The red head is very bright so the goggles will help you feel more comfortable.
I am so excited about the dpl Nüve Beauty System!  It's simple to use and easy to remember which head I used last as I just leave it on the system and change it the next time I use the light.  No need to keep track of which head you are supposed to use on what day; easy peasy.  Then you just hold the light on the area you want to treat for 3 minutes and then move it the next area for 3 minutes, and so on.  The device automatically shuts off at 25 minutes and a fan comes on at 3 minutes.
If you have been on the fence about trying this incredible technology, I would jump at this opportunity.  What do you have to lose, except maybe a few lines and wrinkles!
For those of you who already have the larger DPL Therapy System and are as obsessed about anti-aging as I am, then here's a little secret; the dpl Nuve Beauty System is great for those times when the DPL Light is a little too big and it makes a great travel companion 🙂