This post may contain affiliate links. I may receive commissions for purchases made through links in this post. I will never recommend any products that I don't believe in. Please read my Disclosurefor more info.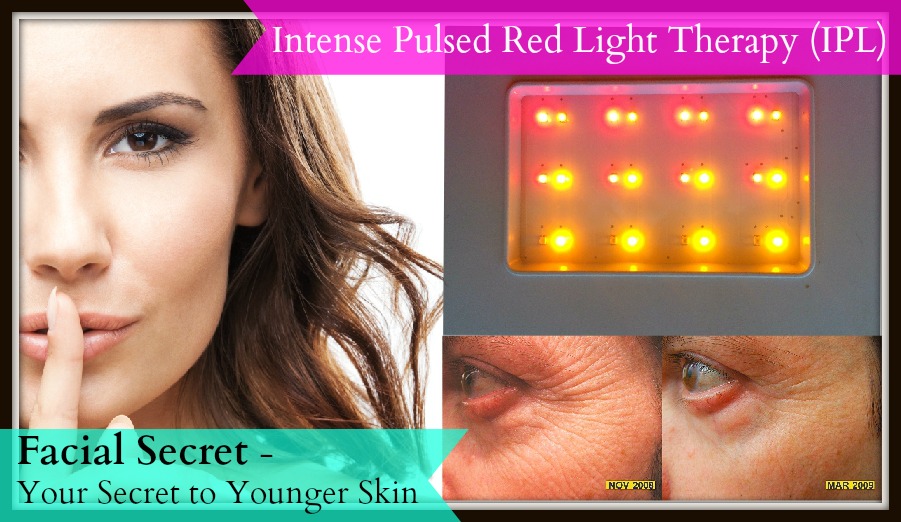 Intense Pulsed Red Light Therapy (IPL)
T
he Facial Secret is no longer available. But please check out these other amazing light therapy options here.
The Facial Secret combines LED (light emitting diode) technology with IPL (intense pulsed light) technology to produce exceptional anti-aging results. There are two things I love about this completely unique system; one, it only takes 5 minutes to treat my entire face and two, it really works! It's the one and only intense pulsed light (IPL) on the market.
You only have to use it once a day (although, I have to admit that I'm a bit obsessive and enjoy doing LED light therapy at least twice a day.) From the busy career woman to the busy stay-at-home mom this unit makes it extremely convenient and doable to fit into even the most demanding lifestyle; who can't find 5 minutes to fight aging and get more beautiful skin?
The Facial Secret uses red and yellow LEDs combined with a powerful pulsing rhythm based on Dr. Nogier's studies on intense pulsed light. IPL is said to make for a more complete delivery and absorption of the healing and reparative lights.
According to Dr. McGee, author of Healing Energies of Heat and Light, devices that consist of LEDs pulsed at Nogier's frequencies "appear to have far stronger healing effects than non-pulsed lasers."
The Facial Secret just takes the push of a button and the yellow and red LEDs pulse alternating between the two lights. The system comes with goggles for comfort but I like to do it without them so the lights are able to better reach my eye area. Red light therapy continues to grow in popularity because of it's gentle yet powerful nature and the fact that you can dramatically improve your skin with no risk and no pain.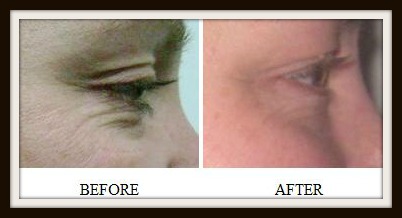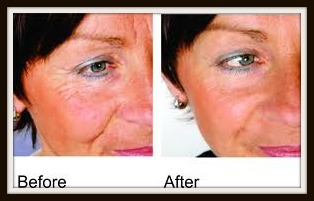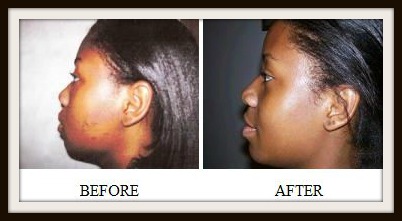 Benefits of IPL Facial Secret®:
Softens acne and other scars
Safe and effective for all skin types
Promotes the skin's own natural rejuvenation process
Helps increase the collagen and elastin production in your skin
Helps increase skin radiance, moisture retention, skin elasticity
Treats entire face in just 5 to 10 minutes a day
Minimizes the appearance of fine lines and wrinkles
Builds resistance to visible aging
Gently smoothes surface wrinkles and uneven skin tone
Reduces the appearance of crow's feet
Helps the appearance of sun-damaged skin
Softens rough dry skin
Smoothes lines around the eyes and mouth over time
Tightens sunken or sagging cheeks
Helps with Rosacea
Decreases puffiness around eyes
Restores youthful tightness and tone to face and neck area
Softens or erases tummy and other stretch marks and scars
Reduces appearance of overall redness associated with rosacea
Helps reduce pore size and clears blemishes
Helps in reducing and fading of age spots and sun spots
Smoothes skin texture and reduces skin degradation
Improves the appearance of skin tone
Non-invasive and no side effects
No downtime or discomfort
Simple to operate
No after care needed
Affordable and cost effective
Increases Personal Self Confidence!
Facial Secret treatments have the ability to penetrate deep into the skin where they target even the deepest wrinkles.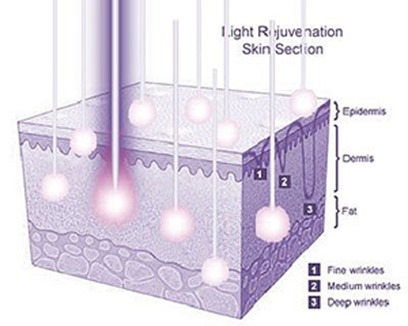 I have found that after just a few treatments my skin looks smoother and more even. It just looks healthier. My lines and wrinkles look softer and my skin looks much more youthful. I find that because the treatment time is so short I do it more frequently. If I feel like I have 5 minutes why not do something productive for my skin?
Studies using IPL:
~Improvement in Skin Elasticity using IPL
Photo aged females, i.e., females experiencing wrinkles, fine lines, brown pigment splotches, fine capillaries, sagging skin, lost skin elacticity, etc. are tested for improvement in skin elasticity before and after receiving treatment in accordance with the non-ablative method of the present invention. Measurements are taken from their cheeks by utilizing subjective evaluations conducted by trained medical personnel. The LED treatment includes subjecting the target area of the patient's skin to a LED light having a pulse width of 250 msec and a pulse spacing of 250 msec for 90 pulses. Eight treatments over 12 weeks to the entire face with 590 nm multichromatic LED at an intensity ranging from 1.05-2.05 .mu.Watts. Having a bandwidth of +/-5-15 nm, the LED therefore produces light in the wavelength range of from 575 nm to 605 nm. Further, the treatment maintains a skin temperature below the threshold of thermal injury. The average improvement in skin elasticity is shown in Table 1.
             TABLE 1
         Skin Elasticity                  Pre treatments    Post treatments
       

Percent Improvement                  0%                   105%
~Wrinkle Reduction–Pulsed Treatment
A team of blinded expert graders viewing before and after photos of patients subjected to the non-ablative LILT ("Low Intensity Light Therapy") of the present invention score the global improvement of visible skin wrinkles.
Photo aged females were tested for reduction of wrinkles. The LED treatment includes subjecting the target area of the patient's skin to a LED light having a pulse width of 250 msec and a pulse spacing of 250 msec for a period of 90 pulses. Eight treatments over 12 weeks to the entire face with 590 nm multichromatic LED at an intensity ranging from 1.0-2.0 .mu.Watts. Having a bandwidth of +/-5-15 nm, the LED therefore produces light in the wavelength range of from 575 nm to 605 nm. Further, the treatment maintains a skin temperature below the threshold of thermal injury. The average reduction in visible wrinkles is shown in Table 2.
                TABLE 2
              Week/Value        Averaged Value of Reduction of Wrinkles
                0 weeks                      0%
                4 weeks                     42%
                8 weeks                     51%
               12 weeks                     48%
The Facial Secret is a powerful means for achieving a younger looking complexion without resorting to something more drastic or potentially dangerous.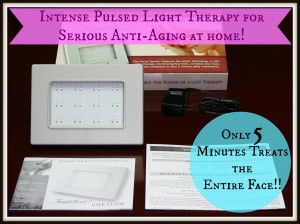 The Facial Secret is no longer available. But please check out these other amazing light therapy options here.
What color lights does Facial Secret® use?
Facial Secret® uses 12 red LEDs and 12 yellow LEDs, all high brightness technology, and under microprocessor control.  Studies have shown that our unique formula for pulsing the LEDs on and off provides the most effective technique for getting the light energy below the skin's epidermis to the dermis to stimulate the production of collagen while slowing down collagen breakdown.
How do LED lights for home use compare to the photo rejuvenation light treatments in spas & salons?
The concept and technology are basically the same.  The main difference is in cost and convenience.  One photo rejuvenation treatment in a spa or salon typically costs $75 to over $200, and it's usually recommended that you get a series of 5 to 10 treatments several times a year.  With our Facial Secret®, home-use means you and your family members can enjoy unlimited treatments in the convenience of your own home for many years to come for less than $399.
How can Facial Secret® be incorporated into my current spa menu?
Facial Secret® is the perfect complement to any aesthetic treatment of the face, neck, chest and hands.  Facial Secret® can also be used as an add-on service to facials, microdermabrasions, chemical peels, waxing services and laser treatments.
What is LED Light Therapy?
Photo rejuvenation or LED Light Therapy is the use of various colors of light emitting diodes (LEDs) that create an anti-aging effect on the skin.  Exact wavelengths of light emitted from LED's stimulate and energize cellular activity, which in turn creates collagen and elastin for Anti-Aging benefits. LED Light Therapy has become recognized as one of the safest, quickest, and most affordable ways to achieve younger-looking skin.  It's referred to by several different names including: Photo-Rejuvenation, Anti-aging LED Light Therapy, LED Light Therapy or Red/Yellow Light Therapy.
Is LED Light Therapy a laser?
The LED Light Therapy is not a laser treatment which is why it is safe for home use or professional use.  Lasers utilize a highly focused and coherent beam of a specific light frequency, and can generate enormous heat and energy at the focal point.  Light from LEDs is not focused, is non-coherent, and generates no heat.  LED Light Therapy is non-invasive, with no down time, requires no surgery, no harsh chemicals, no lasers, no numbing cream, or recovery time.
LED Light therapy works, it's affordable and you can use your spa-quality unit in the privacy of your own home or in your health care facility.  And it takes just a few minutes a day to use.  LED Light Therapy is safe for all skin types and ages.  It is today's natural skin care at its finest.
What is the difference between Laser or LED?
LEDs produce light that is non-coherent, is not focused, is monochromatic, and is based on spontaneous emission.  Lasers produce light that is coherent, is in a highly focused beam, is monochromatic, and is based on stimulated emission.  Tina Karu (1998: The Science of Low-Power Laser Therapy) states that "…the coherence of light is of no importance in low-power laser clinical effects" and "the primary difference between lasers and LEDs is that the laser's coherent beam produces 'speckles' of relatively high power density which can cause local heating of inhomogeneous tissues."
Currently researchers & scientists agree that LEDs are effective in generating a response within living tissue and hence has a therapeutic effect if used properly. NASA has produced the best research documentation to date supporting the effectiveness of LEDs to stimulate plants and human tissue.  Consult your physician if you use photosensitive drugs, have any thyroid condition, are pregnant, or have any concerns about using this product.
Is there any scientific proof of Photo Rejuvenation or LED Light Therapy?
Unlike many technologies on the market today, LED Light Therapy has been thoroughly tested, evaluated and validated by hundreds of universities, medical labs and most importantly NASA.  There have actually been over 2000 reports and documents written on this technology.
Is Photo Rejuvenation or LED Light Therapy safe?
Yes, it is safe and completely non-invasive.  It has been used for years in numerous medical procedures, medical spas, the offices of aestheticians and dermatologists, and by consumers around the world.
Are there any side effects or downtime involved from the treatments?
No.  There have been no reported adverse side effects like redness or irritation from the treatment, and the light does not damage skin in any way.
Will LED treatments hurt or be painful?
Not at all.  Because there's no heat involved, there's no pain!  Unlike lasers or other ablative (skin harming) treatments, LED treatments are non-thermal, non-ablative, and non-invasive.  Clients report no discomfort or pain associated with LED treatments.
Is LED Light Therapy safe to use around my eyes?
LEDs are very bright and therefore it is NOT advisable to look or stare directly into the light.  No studies have been found showing any harmful effects to the eyes when using our product correctly.   Keep the eyes closed during use on the face or use the comfort goggles enclosed and the light will not cause damage to the eye.
What actually happens during the treatment?
You will have to remove any makeup or sun block before the treatment and you will also be asked to wear comfort goggles. The light then should be positioned close (about 10-12 inches away) to your face or area to be treated for 5-10 minutes daily.
How do I prepare my skin before and after using the Facial Secret unit?
Before use, simply cleanse your skin as usual.  Do not apply products prior to use.  Use the unit on clean skin only.   After treatment you may apply your favorite antioxidant or peptide-rich moisturizer.   It is also beneficial to apply daily sun screen to protect your investment.
How long until I see results?
Everyone's skin varies, but most people begin to feel and see a difference after ten days to 2 weeks of daily use.   Often the first improvement noticed is that the skin pores are becoming smaller, and for ladies, their makeup starts going on much smoother.   Because of differences in damaged skin, from age, skin condition, diet, alcohol consumption, smoking habits, etc., some people will see the benefits almost immediately and others will need more treatments.   For collagen production and anti-aging, you should see results in 3 to 4 weeks.   However, some individuals experience positive results in a shorter timeframe.   Skin texture and tone improve from the first treatment.   Pigmentation usually fades over the course of 4 to 5 weeks or more of treatments.
The most important things to remember are is that the Facial Secret technology works, so it's just a matter of consistent daily use to determine 'How long will it take?'   Also it's very important to take a close-up picture of your face before you start using your Facial Secret so that you can see the improvements clearly in the weeks to come by comparing your face in the mirror to the picture.
How often and how long should I use the Facial Secret each week?
The Facial Secret® is designed to be used for five (5) minutes per treatment.  We recommend taking a maximum of two (2) treatments daily for the first month and then daily treatments after that.  After about 6 to 8 weeks of use, you can switch to a maintenance schedule where you use the Facial Secret every other day.   If your schedule permits, you may take both initial daily treatments together or separately.   If you miss a treatment, don't worry, just extend the daily treatments for the lost days.
How do I prepare my skin?
For results, use the unit on clean skin only (no make-up).  We suggest cleansing the skin in the evening and using the unit before retiring to bed, early morning before work, or any convenient time in your schedule.
Do LED Treatments work on everyone?
LED treatments are proven to work on all skin types.  There is an over 90% success rate for people using LED light therapy.
After treatment what do I use on my skin?
Simply retire to bed with bare skin. Skin will further exfoliate overnight.
Can I combine LED treatments with other skin care products?
Yes, you can.  LED treatments can be used alone or with other skin care treatments.  In fact your results will happen faster and be more dramatic if used with a high quality anti-aging or moisturizing skin care product.   Many physicians have found LED treatments to complement other skin care treatments.
Can I use the Facial Secret for balding, acne, rosacea?
LED light therapy devices have been used for balding, rosacea, pain, arthritis and acne.  From an extensive search we performed across the Internet we have found that our LED light therapy product uses similar technology as some other devices whose advertisers are making these claims.  Since this is a new product for us, we are not willing to make any claims that this unit will produce the same results as claimed by other available products. This unit is being marketed as a cosmetic aid device.  The Facial Secret® will cover your entire face with one treatment and we are hearing great testimonies  from our clients on the results they are achieving.  Check out the Testimonials section of our web site for more information.
Will LED light therapy using the Facial Secret help with acne or blemishes?
Although this anti-aging photo rejuvenation product was not designed specifically to handle acne and blemishes, the Facial Secret® will stimulate the skin's natural healing process which helps in the treatment of acne, pimples and blemishes.  Our users have reported that their skin begins producing less oil as the size of their skin pores decrease after using the Facial Secret.   Reduced oil output also helps reduce the impact of acne or pimples.
Does LED Light Therapy help fade age spots?

Yes, over time, light therapy can help fade age spots!  Spots will gradually lighten after about three or four weeks of daily use.  You may wish to use a depigmentation cream such as All-natural Skin Lighten or products containing hydroquinone to help speed lightening the areas.  Pycnogenol gel is known to help fade pigmentation spots.  Again these cream products are not necessary but with some individuals, can help speed results.  Be sure to apply daily sunscreen to help prevent further age spots and wrinkles.
What is the return or cancellation policy?
45-Day money-back guarantee Terms on all Returns: Save your  invoice. All returns must be issued an RMA# within 45 days of purchase. Without an RMA # your return cannot  be accepted. To be issued an RMA#, you acknowledge the terms noted herein. All items must be included in box and in new condition. RETURNED  LED's will be charged a 25% restocking fee.   Return shipping is your responsibility and is non-refundable. Please email  info@revealgreatskin.com   include your  full name, country and date of purchase in your email and we will forward return  instructions.
"Open Box Units":  On the rare occasion that we receive a returned "open box" unit in new condition containing all original package contents we will offer it at a huge discount.   These units cannot be returned.  Please email info@revealgreatskin.com if you are interested in being put on a wait list.
Cancellations: All orders are automatically processed through our secure merchant processor which incurs fees. If you cancel your order BEFORE it has been shipped, you will be assessed a small cancellation fee of $5.00  before credit is issued. We are very sorry, but we cannot accept cancellations if your order has already been shipped. Orders which are refused at delivery will NOT be credited. S & H and freight delivery costs are non-refundable. We are sorry but there are no exceptions.