3rd October, 2011 - Posted by Victoria Girard - No Comments

It's a sad fact that as you age your facial muscles begin to sag and droop causing bags under the eyes, flabby cheeks, loose jowls, and double chins.  You can dramatically reverse those signs of aging with an intense facial workout using the the Tua Viso.
The Tua Viso uses electro stimulation to tone and firm the face and neck muscles.  Strengthening your facial muscles creates a more contoured, tighter, and younger looking appearance.  This little gem makes it so easy to tone the underlying muscles and re-educate them to stay taut and firm.  You can actually see the muscles working as you use the Tua Viso and there is absolutely no pulling or stretching of the skin, which is crucial for promoting a more youthful complexion especially under the eyes.
Regular facial movements just aren't enough to keep your muscles toned and firm.  But the Tua Viso makes it incredibly convenient to lift, contour, and tighten your face, eye area, jowls, and neck.  It helps to re-train the muscles and gives a lasting youthfulness to your appearance.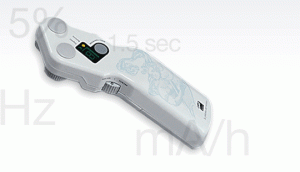 The Tua Viso produces specific wave pulses and frequency that prompts precise muscle contractions.  These efficacious contractions strengthen and firm the muscles, which in turn tightens the skin making it look years younger and more awakened.  It's a safe, effective, and proven tool for giving yourself a non-surgical facelift.
Turn back aging on:
• Double Chin
• Eye bags
•Drooping Lip
• Neck Creases
• Facial Furrows
• Forehead Lines
• Crows' Feet
• Creases Under Eyes
• Sagging Jaw line
Most individuals notice results within 30 days after using the Tua Viso every day.  Once you have reached your desired results you can then simply maintain your newfound youth by using the tool 2-3 times a week.
You can learn more about this incredible "fountain of youth" by clicking here.