4th October, 2011 - Posted by Victoria Girard - No Comments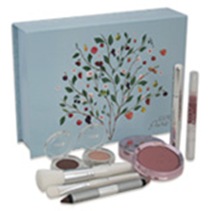 100% Pure Fruit Pigmented Color Collection – Blue Box
100% Pure is the first and only cosmetics line that gets its beautiful colors from actual fruit and vegetable pigments. They are packed with vitamins and antioxidants which promote healthy skin as they infuse the epidermis with healthy and nourishing nutrients.
100% Pure Fruit Pigmented Color Collection – Blue Box contains eight amazing products. The six color items are simply gorgeous and of course 100% pure and natural. This collection is truly beautiful and healthy for your skin.
This collection includes:
Ultra-lengthening Mascara in Black Tea 0.24 oz
Juicy Lip Gloss in Pink berry 0.068 oz
Eye Shadows in Vanilla Sugar 0.07 oz
Eye Shadows Cocoa Plum 0.07 oz
Blush in Strawberry 0.32 oz
Dual-ended Creamy Eyeliner Pencil in Chocolate/Champagne 0.14 oz
Cruelty-free Vegan Blush Brush
Cruelty-free Vegan Eye Shadow Brush
Ultra-lengthening Mascara in Black Tea is 100% natural.  This mascara lengthens, separates, thickens, and glosses your lashes with fruit pigments and black tea.
Juicy lip gloss in Pink berry is 100% natural and made with 83% vitamin E which is a powerful anti-aging antioxidant.
Coco Plum and vanilla sugar eye shadows are absolutely stunning and look gorgeous together.  They are colored with antioxidant and vitamin rich fruit pigments.
Blush in strawberry is blended with organic fruit including blackberry, pomegranate, cranberry, raspberry, strawberry, and cherry to produce a beautifully natural blush.
Dual-ended Creamy Eyeliner Pencil in Chocolate/Champagne is 100% natural with two beautiful colors, one at each end.  The chocolate dramatizes your eyes with a rich chocolate color while the other end includes a champagne shade that brightens up your eyes.
This collection is a luxuriously glamorous combination of rich and healthy products that define and illuminate your features with stunning colors.  I am such a fan of this line because it is so unique and beautiful.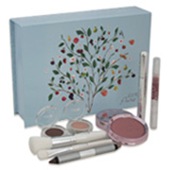 100% Pure Fruit Pigmented Color Collection – Blue Box