This post may contain affiliate links. I may receive commissions for purchases made through links in this post. I will never recommend any products that I don't believe in. Please read my Disclosurefor more info.
Rosacea is a frustrating skin condition that causes redness and inflammation of the cheeks, nose, chin, forehead, or eyelids.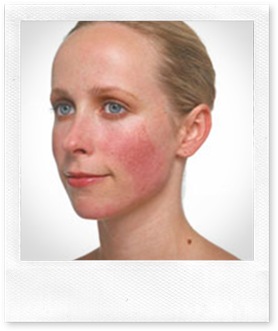 It is a condition that for many sufferers lowers self esteem and self confidence. In fact, many individuals who suffer with rosacea avoid being out in public and social situations all together.
Unfortunately, the cause of rosacea is unknown and there is no cure but there are steps you can take to control the symptoms and feel more confident in your own skin.
1.  Red light therapy is actually very effective at relieving the signs of rosacea.  Studies have shown that LEDs in red and infrared light wavelengths have an anti-inflammatory effect on the skin.  Thereby reducing the embarrassing redness and inflammation that rosacea causes.
It is recommended that individuals with rosacea ease into the light therapy treatments until the skin becomes accustomed to the lights.  For example if you were to use the DPL Therapy System you would start with 3-5 minute sessions instead of the typical 9 minute sessions.  The rosacea symptoms should start to heal and become less inflamed with regular treatments.
2. Avoid sun exposure and wear sunscreen every day.  The sun is a major contributor in bringing forth the signs of rosacea.
3. Steer clear of prolonged exertion or exercise in hot weather.
4. Reduce your stress level.  Incorporate deep breathing, meditation, yoga, or other relaxation techniques into your daily lifestyle.
5. Minimize the amount of spicy foods you consume.
6. Limit your alcohol intake, especially red wine, beer, bourbon, gin, vodka, or champagne.
7. Avoid hot drinks such as hot cider, hot chocolate, tea, and I'm so sorry to say, coffee.
8. Use skin care products that are designed to comfort and soothe rosacea prone skin.  B. Kamins , Rhonda Allison, and Rosacea Care all offer kits containing a number of products that are gentle and effective for treating rosacea.
Rosacea is not a dangerous condition but it can cause psychological, social, and occupational problems if the symptoms are not controlled.
By using light therapy and skin care products geared for rosacea as well as avoiding certain triggers you can better manage your symptoms and feel more confident about the way your skin looks.