This post may contain affiliate links. I may receive commissions for purchases made through links in this post. I will never recommend any products that I don't believe in. Please read my Disclosurefor more info.
Sunburns are painful – so what can you do to help?
Now that summer is just around the corner and you may be seeing the sun for the 1st time in months you need to be extra diligent about wearing sunscreen.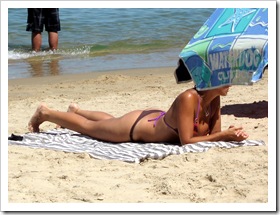 However, if you do find yourself with a painful and skin damaging sunburn there are a couple of things you can do to help treat it.
It has been said that if you take an aspirin as quickly as possible it will help to keep the inflammation down.
Apply aloe vera liberally and frequently to help your skin recover and heal faster. Aloe vera is really an amazing ingredient that has soothing and therapeutic properties.
You can also apply a cream or lotion that contains cortisone. This will help relieve the stinging and painful burning sensation that sunburns can cause.
Just remember that every time you burn your skin you may be causing irreversible damage. A sunburn damages your skin cells and when they are damaged too frequently you are taking a serious risk with the possibility of skin cancer. The damage to your skin cells can also cause age spots, fine lines, and wrinkles.
Just think about people who are out in the sun constantly such as ranchers. Their skin is weathered because of years of sun damage. So the next time you are going out to enjoy a day in the sun think to yourself "is that the look you're going for?" If not, then slather on that sunscreen and use a sunless tanner to get a healthy tan.
62ZJBC4T8J2T