This post may contain affiliate links. I may receive commissions for purchases made through links in this post. I will never recommend any products that I don't believe in. Please read my Disclosurefor more info.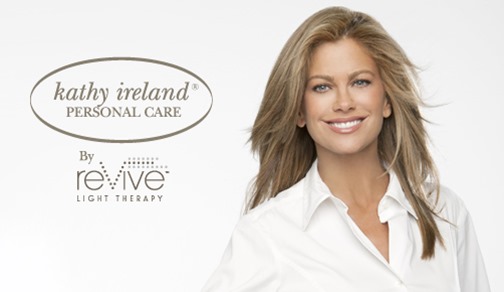 Iconic supermodel, Kathy Ireland, was one of the top models in the 80's and 90's and was featured in the annual Sports Illustrated Swimsuit Issue for 13 consecutive years. She epitomizes true natural beauty and has become a household name as well as a worldwide phenomenon not only for her beauty but also for her books, movies, fitness programs, clothing lines, and more. Forbes magazine has described Ireland as a "prototype for model-turned-mogul." She is a trusted name and highly respected.
At 50 years of age, she is still stunningly beautiful and takes looking and being healthy very serious. She is now sharing one of her beauty secrets with you so you too can look and feel the best you can naturally.
She has stated that:
"reVive™ is exquisite. This anti-aging, skin care therapy is something I truly believe in. Looking your best, from a healthy perspective is powerful. I believe reVive™ is a unique product that is able to make powerful and personal changes in our lives. These treatments from my experience, are exceptional for wrinkles, aging spots, fine lines, sun damage and more."
– Kathy Ireland
Now you can use the exact same skin care device Kathy uses for her gorgeous complexion.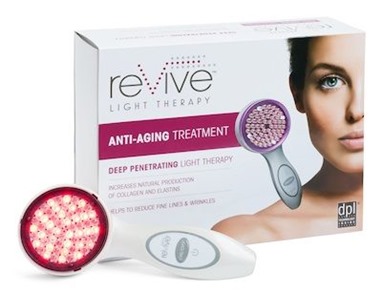 This little beauty incorporates red and infrared LEDs (light emitting diodes) into a large head allowing you to target different areas of your face and body. The precise wavelengths penetrate deep into the layers of your skin where they wake up your skin cells and set in motion an avalanche of positive reactions.
Proven by highly regarded scientific organizations, universities, and medical facilities, including administrations such as NASA to accelerate healing and prompt reparative processes, this technology has a great deal of scientific research backing its effectiveness. These specific LEDs produce a form of energy called photons that engulf and permeate the cells helping to:
Stimulate fibroblasts to produce more collagen and elastin
Increase circulation
Boost cellular energy
Accelerate healing
Repair damage
These powerful cellular reactions result in a clearer, smoother, and younger looking complexion without drugs, chemicals, pain, or downtime. It's a completely non-invasive, non-ablative, and safe means for improving the skin.
Benefits:
A reduction in lines and wrinkles
Diminished scarring
Age spots begin to fade
Smoother texture
Skin gets firmer
Healthy glow from within
Kathy Ireland believes in this system because it works and it's a safe and healthy alternative. She doesn't just put her name on products willy nilly. You can bet if she feels strong enough to stand behind a product it must perform and the reViveTM system does just that.
I specialize in LED light therapy which has given me the opportunity to try quite a variety of systems and I can attest that the reViveTM light therapy system is amazing. It has quickly become one of my favorite units.
It has a large head, large LEDS, gently warms up, and has an effective configuration of red and infrared LEDs. But the real proof is in the pudding. I see great results with it!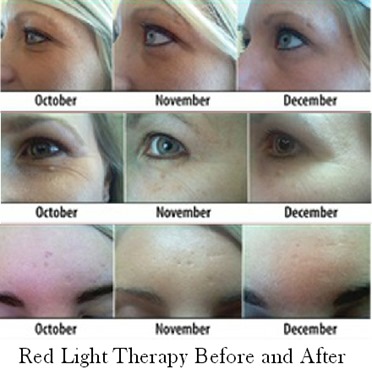 I just happen to live off the grid and rely completely on solar power for electricity. There are occasional bouts of cloudy or stormy weather that can have an impact on what we use. In fact, as I am writing this article we are getting nailed with a huge snow storm that has lasted for a few days and is expected to last a few more. With days of cloud filled skies we have to limit what we plug in and I have to fight myself not to plug in my reViveTM system.
Let me tell you that when that glorious sun peaks it's beautiful round face through those clouds and I know I can once again do my treatments I shout out a hooray (maybe a quiet hooray, but none the less I'm a very happy girl when I can use my light therapy device.)
It feels great, is relaxing, lifts my mood, takes no training (anyone can do this,) and my skin drinks in the reparative energy making it look healthier and younger. The size makes it travel friendly and convenient and allows you to read or watch t.v. while enjoying your treatments. This alone helps me be consistent with treatments which in the end are vital if you want to see results.
It's an exciting technology that puts the power of anti-aging in your hands; you are in complete control. This is one system that makes the process of improving your skin simple and relaxing. To learn more about this powerful system click here.