This post may contain affiliate links. I may receive commissions for purchases made through links in this post. I will never recommend any products that I don't believe in. Please read my Disclosurefor more info.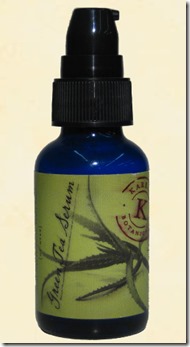 Cooling Green Tea Serum
Karen's Botanicals Cooling Green Tea Serum is truly one of a kind. Designed to soothe inflamed skin and help with rosacea, but this serum is really amazing for all skin types.
It has a beautiful consistency that glides over the skin (no tackiness) and then absorbs into the skin without a trace. It feels wonderful nourishing as it soaks into the skin and then it rejuvenates the skin to perfection. I use this gorgeous serum both a.m. and p.m. and love what it does for my complexion. I also love that I can wear it with other products without pilling and it works great under makeup.
The Cooling Green Tea Serum is loaded with nurturing skin-loving ingredients including green tea (of course,) aloe vera, rosehip, evening primrose, borage seed oil, and sea buckthorn oil. These ingredients are not only exceptionally effective for inflamed and irritated skin as well as sensitive skin, but they contain powerful anti-aging properties.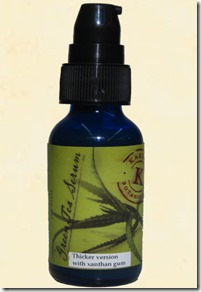 There are two versions of this nutrient dense serum; the original and a thicker style. I have used both with fantastic results and don't see a huge difference between the two. The thicker serum blends just as beautifully as its lighter sister. It's really just a matter of preference as to whether you prefer a thinner consistency or a more gel like consistency. Either way you can't go wrong. Both are packed with the same luscious ingredients and both do a phenomenal job of improving the skin.
I have to say that after trying the Cooling Green Tea Serum I am absolutely in love with Karen's Botanicals! Looking at her website I can see a number of other products I am dying to try and after using the Green Tea Serum I have no doubt that they will be exceptional as well.
She has created an exciting eye cream that contains some very impressive ingredients, oh and then there is another serum that contains Ester C (which has great anti-aging qualities,) and a lavender day cream with spf 15! She has pulled out all the stops when it comes to crafting natural and powerful products that you can feel great using and still get amazing results! Visit www.KarensBotanicals.com to learn more!