This post may contain affiliate links. I may receive commissions for purchases made through links in this post. I will never recommend any products that I don't believe in. Please read my Disclosurefor more info.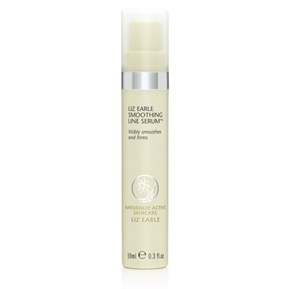 The Liz Earle Smoothing Line Serum just melts into your skin where it nourishes and smoothes, promoting great skin.  Its gel-like consistency sinks in beautifully and makes your skin feel soft and velvety.
This luxurious serum contains grape seed extract to protect your skin from free radicals, hyaluronic acid (sodium hyaluronate) to plump up and hydrate, Echinacea to soothe, and vitamin E to condition and nourish your skin.  It's designed to smooth, moisturize, plump, and firm your skin helping it to look more radiant and beautiful.
This unique serum is just one more member of the incredible Liz Earle line-up.  I love the way my skin drinks it in and how it feels incredibly smooth, soft, and supple. 
It's an oil free night-time treatment that works hard while you sleep infusing your cells with nutrients.  You can expect to wake to smoother, softer, and more dewy skin the next morning.
I do have to say thought that this product contains parabens.  Although, Liz Earle explains in her book, "Skin Care Secrets," that most of the bad publicity surrounding parabens came from flawed and misinterpreted studies.  She explains that parabens are naturally occurring chemicals found in fruit, vegetables, and plants and according to Liz, there have been no other studies since the initial flawed ones that link parabens to breast cancer.
Nonetheless, it's your call whether you are comfortable using them or not.  I think that this product is great and feels wonderful and does a nice job of smoothing and plumping up the skin.   Liz does have other incredible products that don't contain any parabens which gives you great options for your skin care routine.