16th May, 2012 - Posted by Victoria Girard - 1 Comment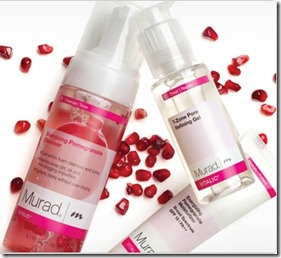 The Murad line is an exceptional line that is catered to many different skin types and concerns.  He offers products designed specifically for acne, mature skin, premature aging, cellulite, as well as unbalanced skin.  But he takes his ingenuity even farther by offering supplements that feed your skin from the inside out.  He has also created "hybrid" products that blend skin care with skin enhancing cosmetics including an award winning bronzer with SPF 15 that Self Magazine claims is "better than the sun!"
I have tried his Resurgence Renewing Eye cream and think it is absolutely fantastic!  It glides over the skin, absorbs wonderfully, and promotes a younger looking eye area.  It is a very powerful treatment, so I like to layer a soothing and moisturizing eye cream on top of it.  I have also tried the Time Release Retinol Concentrate for Deep Wrinkles.  This really an amazing retinol product that, as the name implies, releases the retinol over time rather than in one burst.  It greatly reduces wrinkles and helps the skin look younger without causing irritation or redness; gotta love that!
With this vast number of incredible products you are sure to find something that will make your skin more beautiful and luminous, and from 5/17/12 thru 5/22/12 you can get your skin transforming products at 20% off plus free shipping by using code SAVE20 at checkout.  It's a fantastic way to get your favorite products or try something new for a great discount.
The Murad line has received countless awards on a variety of products.  In fact this line has won over 14 awards from magazines such as Self, InStyle, Fitness, Shape, Allure, and Elite Bride.  If this collection of beauty editors has voted Murad products worthy of their prestigious awards then surely they are worth a go and especially with a 20% savings.  Just remember to use the code SAVE20 when you checkout  and discover the top rated Murad line for yourself.