Red LED Light Therapy – Extreme Results

Red LED Light Therapy Makes it Simple to Look Younger
Red LED light therapy combined with infrared LEDs is an innovative technology used by NASA and the U.S. Navy for pain relief and to accelerate the healing of injuries and has been shown to offer tremendous benefits to the skin.  This advanced therapy is now available for you to use in your own home!

"I am amazed at how well the DPL system works.  I get similar results as I have with harsh treatments like retin-A, but without the dry-flakiness.  My skin is smoother, the wrinkles are much less pronounced, my pores are smaller and I have a youthful glow.  It also gives me an excuse to close my eyes, relax and enjoy the warmth for a little break each day.  I have also used it on my wrists for pain management when my wrists get achy from all of the computer work that I do." A.K./CO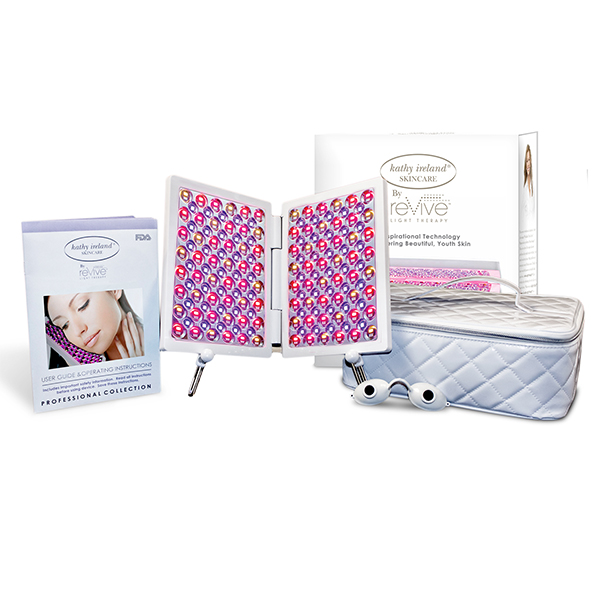 "Hi Victoria, everything is working great and I am looking more and more gorgeous everyday hehe.  I have already had a few people commenting on my skin how great it is looking and I have noticed a huge improvement – a lot more hydrated with a soft dewy look."  Ismae New Zealand 
 "Using the system has changed my life. It has plumped up my face and evened out the color. I've noticed the fine lines and wrinkles are removed and it has helped lift my face. I still use it once a day." J.P./MT

Red LED Light Therapy Offers Amazing Results!
If I had to recommend just one procedure or facial that would improve the appearance of your skin by leaps and bounds, hands down it would be the red LED light therapy.  The DPL Therapy System is a professional grade red LED light therapy system that combines red and infrared LED lights into two large panels making it incredibly simple to treat your entire face or décolleté.
You can see improvements in your skin almost immediately.  In fact after only a few treatments many report smaller pores and smoother skin while after using this system for a period of time they notice a reduction in lines, wrinkles, and age spots.  I know it sounds far fetched and I was skeptical that something like red LED light therapy could really work (at first that is.)  But I experienced first hand the beauty of this incredible system.  After using my DPL® Light just a couple of times I was shocked at how quickly my skin responded and began to improve.
I had searched and searched for something that would truly make a dramatic difference in my skin.  I didn't expect my skin to look like it did in my teens or even my twenties, but I did expect a noticeable and visible improvement.  I didn't want to just cover it up, I didn't want to freeze my expressions, I didn't want to use dangerous toxins or chemicals, and I definitely didn't want surgery.  I really didn't think that was too much to ask, and yet product after product left me more and more disappointed.
Then, lo and behold, I stumbled upon red LED light therapy, also known as LED light therapy or red light therapy.  Of course I hoped for the best but inside I was a bit reticent.  I am so THANKFUL that I gave it a chance.  It is without a doubt my anti-aging holy grail!
Here's the real kicker; this amazing skin rejuvenating red LED light therapy system also relieves pain.  It's a multi tasking genius!  Everyone in the family can benefit from the powerful reparative and healing properties of the DPL® Therapy System.
Before starting my red LED treatments for my skin, I suffered with a well known condition called TMJ.  I had developed it in high school after getting all of my wisdom teeth removed and lived with it for over 20 years. If you have or know someone with TMJ then you know how painful and frustrating it can be.  For those of you who don't let me tell you that your jaw pops and shifts when doing something as simple as eating a sandwich.  I had dealt with it for so long that I brushed it aside until one day after doing the DPL Therapy System treatments for a number of months I realized my TMJ was no longer there.  My jaw stopped popping and I could actually get out a full yawn without pain or jarring.  I was so shocked that I hadn't realized it dissipating, but it was gradual and honestly I was noting the differences in my skin without even giving my TMJ a thought until it was gone.  Talk about a multi-tasking wonder!
The fact is I still love my skin care products.  I love the feel, smell, texture, and hope that comes along with them.  I know they make a difference and I will continue to experiment and try new ones.  But I don't spend nearly as much money on skin care as I did before my red LED light therapy system and I don't get as dramatic results from topical products.  They just can't penetrate as deeply or stir up the same energy that infrared and red LEDs can.

What can you expect from red LED light therapy?
You can expect to see a reduction in lines, wrinkles, and age spots, a more even skin tone, smaller pores, diminished scarring, and the list goes on and on.  You will also find that the DPL Therapy System helps reduce pain in your back, muscles, and  joints, speeds up healing, reduces inflammation, and aids in managing injury related pain.
Red LED light wavelengths ranging from 630nanometers to 660nm and infrared wavelengths at 880nm have the ability to penetrate DEEPLY into your skin and tissue where they stimulate collagen synthesis, energize positive cellular activity, while repairing and healing damage.  It's an incredibly gentle yet powerful option for both skin rejuvenation and pain management.
"I use it in bed and lay it on my face and decollage':))  I've been doing this 2X day for 17 minutes. A deep wrinkle on my forehead appears to be minimized.  I've also used this lite for my shoulder pain.  It really helps relax my muscles." J.K / OR
LED Red Light Therapy Benefits Include:
Minimizes fine lines and wrinkles
Reduces crow's feet
Heals blemishes
Improves skin tone
Regeneration/stimulation of collagen
Restores skin's natural cellular collagen activity
Activates fibroblast cells which create collagen/elastin
Repairs sun-damaged skin
Creates more skin moisture which will help fill out skin Increases circulation to the skin
Reduces melanin production, which causes age spots Promotes nutritional elements existing within the skin
Helps irregular pigmentation
Lessens skin coarseness Lessens pore size
Stimulates and activates metabolic function in skin
Smoothes texture
Reduces skin degradation
Reduces overall redness and flushing
Also Exceptional for Pain Management & Reducing Inflammation
"The system has been well worth the money. It really does what it says it will do. My wrinkles and fine lines around the eyes have tightened and improved. I am very happy and satisfied with the DPL™ it really helps." M.R./Washington
Red LED Light Therapy gives you the freedom to:
Feel Gorgeous!
Stop hiding behind sunglasses
Wear less makeup
Feel more confident
Save money (Professional treatments are very expensive and you will need less makeup and fewer skin care products)
Be noticed (both men and women will notice your newfound glow, and women will be dying to know your secret!)
Look flawless for special events
Look much younger than your age
Red LED light therapy can make a profound difference in your skin and you can begin making those changes today.
Click here to learn more about the different systems and how they can help you!