This post may contain affiliate links. I may receive commissions for purchases made through links in this post. I will never recommend any products that I don't believe in. Please read my Disclosurefor more info.
The Revplex Under Eye Serum and the Eyelash Enhancer work extremely well at making your eyes pop and getting them noticed in a very positive way.  Revplex uses ingredients that have been proven to be safe and effective for all skin types.  I have to say that I have been more than impressed with these two products.
The Revplex Under Eye Serum goes on like a dream and melts into the skin like a luscious butter.  It makes my skin feel soft, supple, and hydrated.  I really love the way this serum glides over the skin and how it makes my skin feel comfortable and smooth.  It truly blends in beautifully and helps my tired eyes look refreshed, renewed, and rejuvenated.  LOVE IT!  It's an incredibly effective holistic product that has been shown to produce results in as little as 4 weeks.
Benefits of the Under Eye Serum
Moisturizes
Soothes
Reduces dark circles – clinical tests have revealed up to a 77% reduction in dark circles
Decreases puffiness
Increases firmness
Lifts
Protects the skin from free radical damage and oxidation
Revplex Eyelash and Eyebrow Enhancer is designed to produce fuller, thicker, longer, and darker lashes and brows naturally.  It's simple to use; you just paint a thin line along your lash line just before bed and as you sleep it feeds your follicles with ingredients that nourish, strengthen, and improve the look of your lashes and brows.
Since using this product I have noticed my lashes looking healthier and stronger; and my lashes really take a beating.  I wear waterproof mascara every day and remove it every single night.  This can really take a toll on lashes, but with the Revplex lash enhancer they actually look fuller, thicker, and in overall better condition.
Benefits of the Lash and Brow Enhancer
100% of the subjects tested experienced an increase in the appearance of their eyelashes and eyebrows.
82% of the subjects tested reported an increase in density.
53% of the subjects tested showed a significant overall improvement in the look of their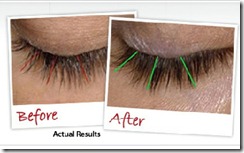 I really love these two products and highly recommend them.  The combination of longer and fuller lashes with a smoother and more youthful under eye area makes for more striking eyes.  Revplex uses high quality ingredients to achieve naturally beautiful skin in 4-6 weeks.
Disclaimer: Revplex provided me with free samples of these products to review, and I was under no obligation to review it if I so chose.  Nor was I under any obligation to write a positive review in return for the free products.