This post may contain affiliate links. I may receive commissions for purchases made through links in this post. I will never recommend any products that I don't believe in. Please read my Disclosurefor more info.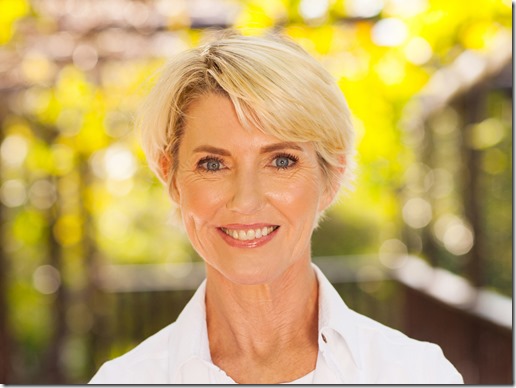 Beautiful Skin After 40
For some, turning 40 is a celebration; a well-earned milestone in life. But for others it signifies getting old. It's a time when wrinkles and acne can co-exist, lines and deep crevices leave their marks, age spots seem to pop up out of nowhere, and loss of elasticity just brings you down. Fortunately, there are things you can do at home to address these issues and continue to look….well, simply gorgeous!
Dry Skin
40 and beyond means hormone changes that can affect how your skin looks and behaves. You may notice that these changes are causing your skin to become dryer. This loss of moisture in the skin leads to premature wrinkling, especially around the eyes and mouth. Natural products containing hyaluronic acid actively attract water to the skin helping to maintain moisture levels.
(Kate Ryan Skin Care offers a great Hyaluronic Serum that your skin will just drink in!)
You can also use products such as pure argan oil (I recommend Mara Kesh Select; it's amazing) or you can go with a beautifully rich organic moisturizer such as Gaelle Organic Crème Superieure (it is absolutely fantastic!)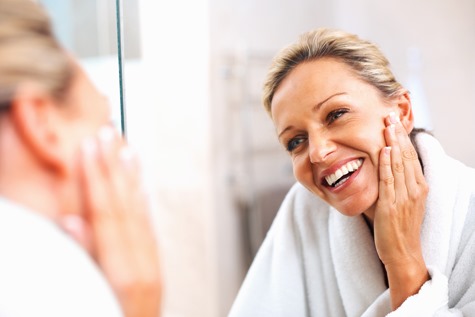 Dull Skin
As you gracefully roll into your 40's you may find that your skin is looking a bit dull. Skin cell turnover slows down with age and dead skin just doesn't shed as easily causing your skin to look dull and lifeless. Exfoliation will dramatically help with skin that has lost its glow. You can easily add this tip to your skin care routine. There are many options in this category. Manual exfoliation 2-3 times a week with a scrub such as Gaelle Organic Reborn, or using a cleansing brush daily, or taking it a step further and using a more advanced tool such as Tua Spa will dramatically improve the appearance and texture of your skin. (You can see these products in the Reveal Great Skin shop)
Acne
Acne and wrinkles?! Arghhh, what is going on here? It's actually very common to reach 40 plus and experience acne due to hormonal changes. My favorite go-to device for breakouts is the Clear Rayz (my daughter LOVES it also.) It's a super easy and convenient tool that has red LEDs (light emitting diodes) on one side and blue LEDs on the other. Red LEDs reduce inflammation, lessen redness, and accelerate healing. While the blue LEDs kill the bacteria that cause acne. Just be sure that you don't do both treatments on the same day. For better results you will want to alternate days between the two colors.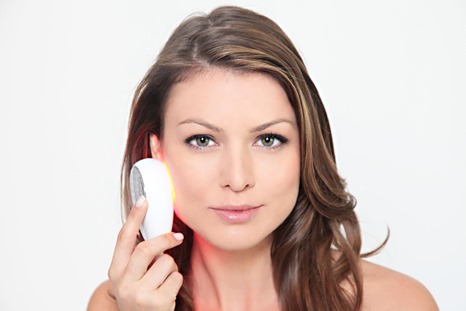 Wrinkles
Oh, the dreaded wrinkle in time that leaves it's unwanted mark on your beautiful face! Wrinkles and age spots are probably the most frustrating issues because they are seen in our culture to signify looking old.
Once again light therapy comes to the rescue. My absolute can't-live-without anti-aging secret (okay it really isn't a secret because I tell EVERYONE) is red light therapy; namely the Baby Quasar and the DPL Therapy System. I have had the good fortune to try and use numerous systems and these two quickly rose to the top because of their effectiveness, quality, and ease. They are both FDA cleared, class II medical devices that produce REAL results.
Both the Baby Q. and the DPL Therapy System are extremely powerful and use very specific wavelengths (the Baby Q. uses 4 wavelengths and the DPL uses 2) that have been proven to stimulate collagen and elastin production, prompt reparative and healing properties, increase circulation, and boost cellular energy.
I could go on and on about the benefits of this incredible technology, but you get the idea.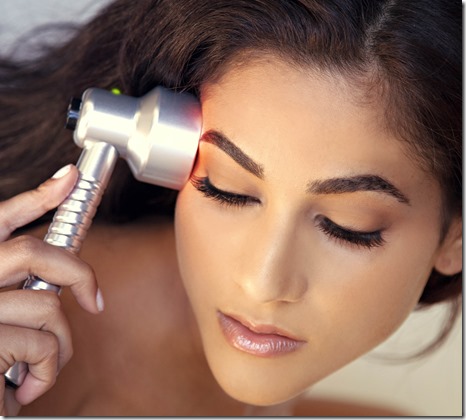 40 and beyond should be a time in life that you revel in your wisdom, experiences, family, and YOU! Feeling self-conscious about your skin just shouldn't be a part of the equation. Take steps to help your skin look its best, look gorgeous, and let your beauty shine! The world needs to see your spark!