This post may contain affiliate links. I may receive commissions for purchases made through links in this post. I will never recommend any products that I don't believe in. Please read my Disclosurefor more info.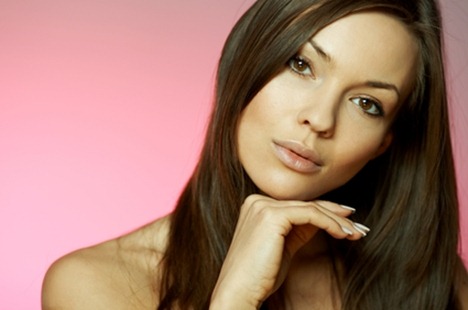 Did you know that large pores are a sign of how much oil your skin produced when you were a teenager?    If your skin was the type that quickly pushed out oil (sebum) then that process actually stretched out the walls of your pores making them larger.
If you had oily skin all over your face as a teen then you probably have large pores all over your face.  If you battled an oily t-zone then your larger pores will be found primarily in that zone.  However, if you were one of the lucky ones that didn't need to worry about always making sure she had pressed powder nearby then you are probably blessed with small pores.
So, now that you know why you have been afflicted with large pores what can you do to help them look smaller giving your skin more of the porcelain glow that you so badly crave?
Exfoliation
Regular exfoliation will help diminish the appearance of large pores.  Exfoliating the skin will help remove dead skin and debris that can glob together with sebum sticking in your pores.  Eliminating dead skin and cleaning out your pores will help them look smaller.
Essona Organics Zenesis Juicy Peel Masque is packed with ingredients that thoroughly exfoliate and detoxify your skin.  It combines fruit acids, pumpkin enzymes, lactic acid, and bentonite clay to do a superior job of exfoliating, detoxifying, cleansing, and refreshing your complexion.
Red LED Light Therapy
Light therapy is a powerful skin rejuvenation tool that offers the additional benefit of making your pores look smaller.  The gentle LEDs (light emitting diodes) permeate your skin and tissue where the wavelengths stir up positive responses including reparative, healing, collagen production, and help to strengthen the walls of your pores.
The DPL Therapy System combines red and infrared LEDs to seriously treat your skin.  It has been shown to produce dramatic results.  I noticed that my pores looked smaller after only a few treatments with this incredible system.
The Caribbean Sun Skin Rejuvenation light combines red and yellow LEDs to intensely rejuvenate your skin.  It has a profound effect on the appearance of your skin making it glow with a beautiful vibrancy.
When you exfoliate and use red LED light therapy consistently and religiously your pores will look smaller and your skin will look stunning.