This post may contain affiliate links. I may receive commissions for purchases made through links in this post. I will never recommend any products that I don't believe in. Please read my Disclosurefor more info.
Okay, so you've heard it again and again and know how harmful the sun's rays can be to your skin.  In fact causes 90% of the visible signs of aging in your skin as well as significantly increasing your risk of skin cancer.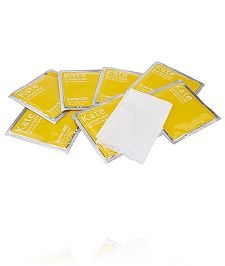 Unfortunately, as beautiful as a golden brown tan looks, it is a sign of DNA damage.  Check out www.skincancer.org for more information and helpful sun safety tips.  You should be protecting your skin everyday with an SPF moisturizer, but if you want that gorgeous bronze tan then opt for a safe sunless self-tanner.
Kate Somerville makes an incredible sunless tanner called Somer360 Tanning Towelettes that give you a natural looking beautiful tan with the ease of a wipe and without the harmful DNA damaging rays of the sun.
I actually use sunless tanners year round, at least on my face and these towelettes make it so simple and uncomplicated.  I don't have to guess how much to squeeze into my palms or how much I need for my legs versus my face.  I can't tell you how many times I have squeezed way too much into my hands and then glopped it onto my skin only to experience streaking and a far from natural looking color that lasted for days.
Kate's Somer360 Towelettes really do take the guess work out and give a truly beautiful "vacation at the beach" glowing tan. 
You don't have to live with pasty white skin in the name of sun protection.  You can still protect your skin and look like you just got back from the Bahamas without risking skin cancer, wrinkles, and age spots.  Be gorgeously tan and sun safe at the same time with the simplicity of wiping on your tan.
You can learn more about Kate's Somer360 Towelettes by clicking here.