22nd May, 2013 - Posted by Victoria Girard - 4 Comments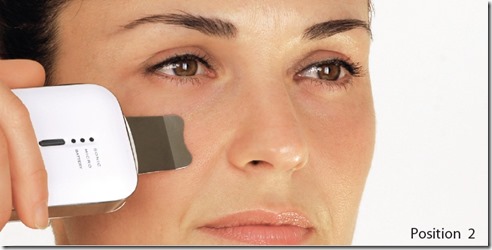 Tua Spa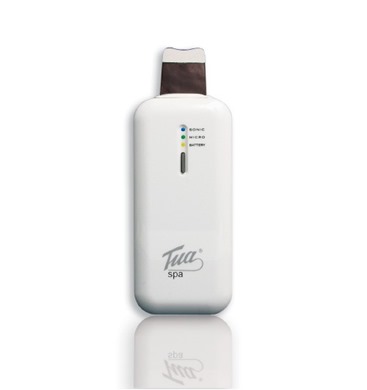 The Tua Spa is a powerful anti-aging beauty device that combines ultra sonic waves and microcurrents into one intense too. It's designed to restore a youthful look to your skin and starts working from the very 1st treatment.
1. It offers a deep cleansing and exfoliation removing the surface layers of the skin.
2. Microcurrents stimulate tissue regeneration in the deeper layers of the skin.
3. Ultra sonic waves deeply massage increasing natural hydration and promoting more efficient absorption of active skin care ingredients.
Ultra sonic waves are sound waves that can't be heard by the human ear; more than 20,000 vibrations per second! Microcurrents are precise and very small electrical currents. So, how are these vibrations and electrical currents good for your skin?
Using the sonic waves provides a deep cleansing and serious exfoliation treatment for the skin. The cleansing and exfoliating actions help your skin look smoother, brighter, and more refined immediately following a treatment.
The sonic waves also create a micro massage and warmth that penetrate into the deeper tissue driving hydration and nourishment to the cells while improving the absorption of topical skin care products.
Microcurrents help with skin regeneration, help with firming, and are beneficial to the skin stimulating the skin's natural rebuilding process. Precise currents boost circulation bringing more oxygen and nutrients to the deepest layers of the skin while also encouraging collagen and elastin production and cellular renewal. Whew…that's a lot of benefits!
The microcurrents help the skin's structure from below resulting in a reduction of lines and wrinkles and improving the tone and tautness of the skin. Woohoo!
Using the sonic waves and microcurrents together (you have the option of using them independently or simultaneously) provides an intense facial that takes the hydrating benefits of the sonic waves and combines them with the skin cell rejuvenation and toning benefits of the microcurrent technology giving you an amazing anti-aging facial in your own home!

Everything is explained in great detail in the Tua Spa Manual but here is a basic overview:
SONIC
The Sonic function has two speeds, CONTINUOUS and INTERMITTENT, each with a LOW and HIGH intensity level.
Use the high intensity for deep cleansing and exfoliation treatments, in CONTINUOUS mode for normal skin. INTERMITTENT if you have particularly sensitive skin or for more sensitive facial areas, such as near the eyes, mouth and forehead.
Use low intensity for micro-massage, with the flat side of the modulator resting on the skin; in CONTINUOUS mode for normal skin and INTERMITTENT mode for sensitive skin or delicate areas
Recommended treatment times are 2 to 5 minutes;
MICRO
The micro-current program has three intensity levels, low, medium and high. Select intensity by pressing the control button, and the green indicator light (LED) flashes faster as intensity increases.
Use the low intensity on the more sensitive areas (under eye area, near the mouth, the forehead). Never use the micro-current on the thin skin inside the orbital bone. Use medium and high levels for other areas.
SONIC+MICRO
In this powerful 3-minute facial, Ultrasonic and Micro-current technologies merge. Ideal for regenerating the tissues, internal hydration, cutaneous tone, moisturizer induction and a clear improvement of local circulation (a rosy glow).
Speed and intensity are predetermined in the program, no further settings are necessary. Simultaneously, the program delivers the Sonic continuous vibration low setting and medium intensity Micro-currents.
Use upward and outward movements or refer to the APPLICATIONS section.
Selecting the desired function
Once the unit beeps confirming power is on, press the control button to choose the desired program in the following order:
– Sonic is already set in its low intensity, indicator LED is blue
– Press control button 1 time to select Micro-current,
indicator LED is green
– Press (again or) 2 times to select Sonic+Micro, both
LEDs light up, blue and green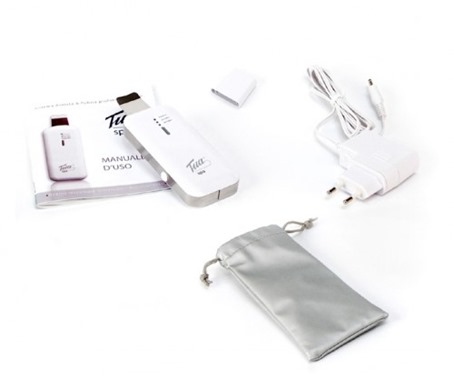 PRECAUTIONS
Always keep the skin of the facial zone you are treating thoroughly moistened with tap water or other wetting solution during micro-current treatments.
Do not immerse the device in water or wash under a running tap.
Keep out of reach of children.
CONTRAINDICATIONS
DO NOT USE Tua Spa if you have any of the following conditions:
− Pathological facial conditions
− Pacemakers or heart complaints
− Metal pins and plates
− Neurological disorders including epilepsy or multiple sclerosis
− Tinnitus (constant noises in the ear)
− Weak psycho-physical condition
− Broken or bruised skin
− Open sores or mucous membrane complaints
− Skin conditions in an active state accompanied by inflammation, weeping
or soreness
− Large protruding atypical moles
− Extreme sunburn
− FOR EXTERNAL USE ONLY
Consult your doctor before using Tua Spa if you have recently had a facial cosme­tic procedure or chemical/acid peel.
When in doubt, consult your doctor.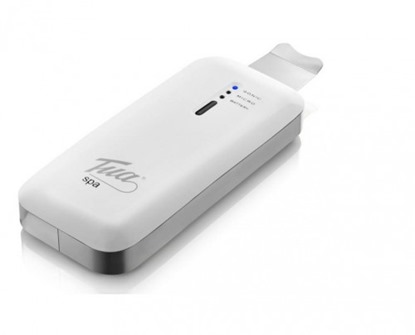 Frequently Asked Questions:
Q. Is it Safe to use the Spa on Sensitive Skin?
A. With Tua Spa, we have taken steps to accommodate those who have sensitive skin or areas of sensitivity on their face and neck. If you have sensitive skin, our advice is to begin each treatment slowly and with care, taking no longer than 1 minute to complete it in the first instance, until you are confident that you have selected a comfortable setting.
Q. Do you have to do all the treatments at once for best results?
A. Select one preferred treatment or a combination of treatments according to your needs. You can do the treatments separately at different times or combine treatments as you wish. A quick time saving routine is: Deep Cleansing and Exfoliation followed by the Skin Booster treatment.

Q. Where can I use Tua Spa?
A. Tua Spa can be used on the face, neck, décolleté, back of hands, back of arms and congested areas such as your back.
Q. How is Tua Spa different to Tua Viso?
A. Tua Spa is an all in one product for deep cleansing and anti-ageing which cleanses and energises the facial muscles for a clean, polished, vibrant and more toned look. Tua Viso is your line of attack for tightening deep muscle fibres to lift, tone and firm the face and neck at a much deeper level. Using Tua Spa in conjunction with Tua Viso is a fantastic way to ensure that you maintain a thoroughly cleansed and toned youthful and radiant appearance.
Q. How long does the treatment take?
A. Depending on your needs and your selected treatments the guideline is 2 – 3 minutes per treatment.
Q. How often should I use Tua Spa?
A. Tua Spa is gentle enough for daily use however, if you have sensitive skin, we recommend you start by doing the Deep Cleansing and Exfoliation treatments 2 – 3 times per week.

Q. What products should I use with Tua Spa?
A. Tua Spa can be used with just tap water alone for all the treatments. To maximise results you can use a water-based (the word "aqua" will be listed high up in the ingredients list on the packaging) cleansing lotion or facial wash on wet skin for the Deep Cleansing & Exfoliation treatment. For the Micro-massage Induction treatment use your favourite serums, facial gels, oils, moisturising creams, eye serums/creams; preferably applied to damp skin.

Q. When should Tua Spa not be used?
A.Tua Spa must not be used by anyone suffering from multiple sclerosis, epilepsy, a nervous tissue disorder, an acute medical condition or if you have an implanted pace maker or heart complaints. Medical advice from your doctor must be obtained with the following conditions: skin diseases, cuts, recent scar tissue, visible treated veins, and loss of normal skin sensation or swollen glands in the area to be treated. Consult your doctor before using Tua Spa if you have recently had a facial cosmetic procedure or chemical/acid peel. Remember: If in doubt, please consult your doctor.
Click here to purchase your Tua Spa.