This post may contain affiliate links. I may receive commissions for purchases made through links in this post. I will never recommend any products that I don't believe in. Please read my Disclosurefor more info.

Get Rid Of Under Eye Wrinkles And Smile Again!
Under eye wrinkles!  Aaargghhh!  When under eye wrinkles rear their not so beautiful head, all you want to do is scream and make them disappear.
First you have to realize that it took years of damage for them to get to the state they are now.  They won't disappear overnight and they probably won't ever completely vanish.  But there are things you can do to help reduce those unsightly under eye wrinkles and get younger looking eyes.
Be Gentle
You need to be extremely gentle with your eye area.  Never tug or pull at the skin around your eyes.  This skin is much thinner than the rest of the skin on your face.  In fact, it is often compared to tissue paper.
When taking off any eye makeup let your makeup remover sit on your eye for a few seconds giving it a chance to dissolve the makeup.  Then gently wipe it away, making a concerted effort not to tug at your skin.
When applying eye cream use your ring finger (the one next to your pinkie) to dab on the eye cream without pulling at the skin.  This finger tends to be weaker and therefore is more gentle when using an eye cream.
The combination of infrared and red light therapy is able to deeply penetrate into the skin where they stimulate collagen and elastin production as well as increasing cell activity.  With the increase of collagen and elastin your eye area will get its bounce back and the skin will appear smoother.
LEDs (infrared and red lights) have been shown to have many benefits for the skin such as diminishing lines, wrinkles, and crow's feet, smoothing the skin, reducing pore size, evening out skin tone, healing blemishes, and more.
You can speed up the anti-aging process by combining light therapy with a peptide serum.  Just make sure the serum isn't thick or oily.  Ideally you want one that has absorbs perfectly into the skin so that it won't interfere with the lights ability to penetrate thelayers of the skin.
Anti-Aging Eye Cream or Serum
After using the red light therapy apply an anti-aging eye cream or serum.  Look for products that contain ingredients such as peptides, retinol, vitamin C, or growth factors.  Argan oil is an an incredibly effective anti-aging treatment that is 100% natural.  Renu Derma makes an incredible eye cream that has astounding results.  It is loaded with natural ingredients that really get in there and make your eyes look more beautiful!  Check out the before and after below after using the Renu Derma eye cream every day for 6-8 months!  Mara Kesh Select's argan oil is pure and 100% organic and makes a great eye serum.    Xtend-Life makes a wonderful serum and Murad's Renewing Eye Cream is designed to dramatically smooth out the skin under your eyes.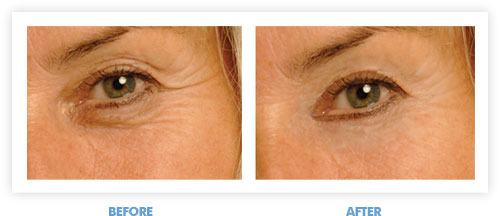 Microcurrent at-home facial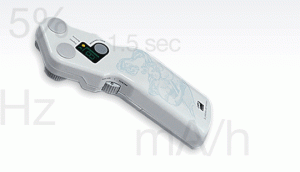 The Tua Viso is an incredible tool that quickly and easily help to firm up and tone the under eye area reducing the appearance of wrinkles.  This device is fantastic becuase it visibly contracts the muscles without stretching, pulling, or tugging on the skin.  The Tua Viso effectively reduces wrinkles and tones the skin without needles, knives, or dangerous chemicals.
Facial Exercises
The muscles under your eyes begin to lose strength as you age and daily movements just aren't enough to keep them strong.  Facial exercise programs are somewhat controversial and have quite a few nay sayers.  I have to admit that I was skeptical at first, but after using an exercise program for awhile I really did begin to see postitive changes in my skin.  You need to make sure that you are using a reputable and comprehensive program that shows you in great detail how to do the exercises because doing them wrong could make your wrinkles worse.  Facial Magic and The Facial Workout are two great programs that will walk you through an entire detailed exercise routine.
Stick with it
The most important things to remember are to be patient, consistent, and  persistent.  Your skin needs time to repair past damage.  So stick with it and you will begin to see those stubborn under eye wrinkles slipping away.  So smile, rejoice, and get rid of those pesky wrinkles!