This post may contain affiliate links. I may receive commissions for purchases made through links in this post. I will never recommend any products that I don't believe in. Please read my Disclosurefor more info.
Valentine's Day is a unique opportunity to show those special people in your life how much they mean to you (and that should include yourself!) Skin care is a great way to pamper yourself, that special man, daughters, aunts, nieces, moms, and grandmothers. There are so many incredible options for every skin type, age, and sex. You really can't go wrong.
There are some truly amazing Valentine's Day sales going on right now. It gives you a great excuse to stock up on your favorites or try something new. Two of the top skin care sites are currently offering enormous deals.
SkinCarebyAlana is offering a savings of over 40% on select items along with FREE gift wrap and FREE shipping. She is also offering you additional savings based on the amount you spend.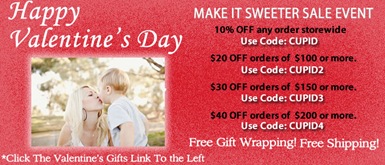 Cleopatra's Choice is offering 20% off of EVERYTHING until 2/15/12 and free shipping when you spend over $49. Just use the code GIVEME20 when you checkout.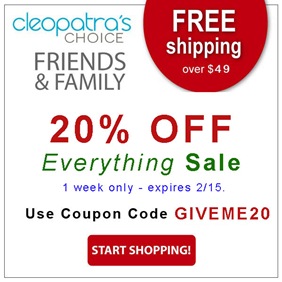 Happy Valentine's Day and happy shopping!