6th April, 2012 - Posted by Victoria Girard - 11 Comments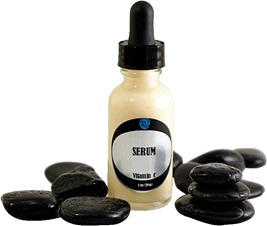 Congratulations Heidi V. of Washington!
Enter to win a free bottle of Renu Derma High Impact vitamin C Serum from now until April 30, 2012 by leaving a comment below.  You then have the opportunity to enter 4 more times by doing the following:
Like Reveal Great Skin on Facebook
Join us on Google +
Follow us on Twitter
Sign up for email updates to the right
Renu Derma's High Impact Vitamin C Serum ($29.99) is great for dryer and more mature skin types and is loaded with incredible natural and organic ingredients.  It's a creamy serum that is extremely potent and effective.
It's a luxurious serum that restores damaged cells, brightens your complexion, and helps prevent further aging in the skin.  It contains two types of vitamin C that have been proven to visibly improve the appearance of your skin.  They work as antioxidants fighting off free radicals and also stimulate collagen production reducing lines and wrinkles.
Renu Derma's vitamin C serum has a high amount of Rosehip seed oil which has been shown to be an anti-aging powerhouse.  It contains a natural form of vitamin A which increases cell turnover and boosts collagen production.
You only need a small amount of this powerful serum for your skin to begin reaping the anti-aging rewards.  If it feels a bit heavy then that is a good indication that you have used too much.  When you use a small amount your skin will drink it in and it will be absorbed beautifully.
This is a wonderful addition to any anti-aging skin care routine and can be used both in the morning and at night.  It will infuse your skin with healing properties that will help your skin look healthy and vibrant.
Enter to win this luxurious serum below and take advantage of all five ways that you can enter.
Comment below and let me know why you would like to win this High Impact Vitamin C serum below.
Good Luck!!