This post may contain affiliate links. I may receive commissions for purchases made through links in this post. I will never recommend any products that I don't believe in. Please read my Disclosurefor more info.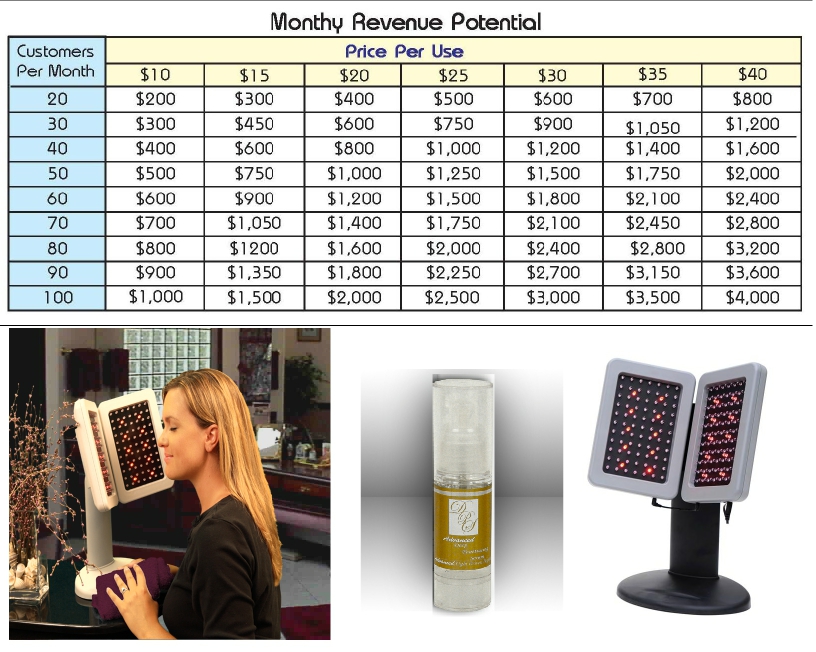 Build your own business working from home and create a monthly income with the most effective facial on the market – the Deep Penetrating Light combined with a professional strength peptide facial!
You don't have to go back to school or pay for specialized training (DPL®
Therapy System does the work for you)
You don't have to build a team or a down line
Enjoy complete freedom & flexibility
Own and run your own business
No boss looking over your shoulder
Work as much or as little as you want
Plan your own schedule
Simple to use LED light system
No commuting in rush hour traffic
Save money on gas
Spend more time with your family
Be there for school events
Make a little extra spending money or a full time income; it's up to you
LED light facials can help you make more money so you have more control of your time; how you spend it is up to you!
How to do the DPL® Therapy System Facial:
Set up a space in your home (you could use a simple room separator)
Playing soothing music would add a nice touch
Use a facial wipe to gently remove makeup, dirt, and debris from your
client's skin
Apply the Light Driven Peptide Serum all over your client's face
Have your client sit in front of the two large panels and push the power
button on the bottom of the right panel.  It will beep every minute and then
turn off automatically at the end of nine minutes.
Why this Facial works so well:
It utilizes a custom developed 100% professional strength peptide that is
formulated to function with the light output of the DPL® Therapy System.
The LEDs penetrate an absorb deep into the skin, energizing and regenerating
collagen and elastin cells and drive the professional strength peptide deeper
into the skin producing maximum cellular regeneration.
Minimizes fine lines and wrinkles
Reduces crow's-feet
Heals blemishes
Improves skin tone
Regeneration/stimulation of collagen
Restores the skin's natural cellular collagenactivity
Activates fibroblast cells creating collagen and elastin
Helps sun-damaged skin
Increases circulation, providing a healthier skin tone
Reduces brown age spots
Promotes nutritional elements existing within the skin
Helps irregular pigmentation
Lessens pore size
Stimulates the metabolic function in skin cells
Smoothes skin texture
Reduces skin degradation
Reduces overall redness, flushing
How to begin:
Purchase a DPL® Therapy System (business expense-tax right off)
Purchase the Light Driven Serum (business expense-tax right off)
Plan an advertising strategy (VistaPrint.com has fantastic prices for
business cards, flyers, brochures, car door magnets, and just about anything you
can imagine for your business needs-also a business expense and tax right off)
It may be necessary to obtain a license to operate a facial business in your area.  Visit your local city or county office to find out what you need and follow all guidelines so you are in compliance.
Ways to get your name out there:
Have brochures, flyers, postcards, business cards, and/or pamphlets made
that you can distribute to stir up business (VistaPrint.com is an amazing site
that offers great prices for these products)
Create a nice space for your facial.  You can use a room or a panel divider
to set up a space where your clients feel comfortable and at ease.  Make sure
it's free from clutter and has a relaxing feel.  You could use a scented candle
to add a nice aroma to the area.
Set up a playpen near your facial station so that moms can bring their
little ones and have them nearby and playing in a safe place.
Have t-shirt created with your business on it to gain curiosity
(VistaPrint.com also creates t-shirts).  Wear it to your kid's sports events,
school events, parks, etc.  Keep your business cards on you so when people ask
about your shirt you can hand them a card.
Place a door magnet on your car announcing your new business
Offer gift certificates for teacher gifts, birthdays, Christmas, etc.
Facial parties- offer incentives such as a free facial for women to host
facial parties.  Each participant can enjoy a relaxing facial for $10-$15.  (If
there are 10-12 members then you could potentially make $100-$180 for that
party)
Offer LED light facials for bridal parties
Leave a stack of brochures with your hair dresser and ask her if she can
help you get the word out about your new business.  You could even team up to do
parties.
Talk to the front desk at surrounding schools and see if they have a place
for you to place brochures offering a discount to teachers.
See if your local library has a place where you could place brochures and
offer a discount to their patrons.
Participate on Twitter, Facebook, and Google+.  Create relationships, spread
the word about your business, share promotions, and make a presence.
Check out your local library's selection of books on running a home
business.  Soak in all of the great tips and advice that the experts have to
offer.
Think outside the box and be creative about getting your name out there.
Advantages to offering DPL™ Therapy Treatments:
Virtually no labor
One treatment is only 9 minutes (you can do them back to back for a total of
18 min.)
Treatment is self administered
Can be done during clients lunch break
Gain additional revenue from existing customers
Very fast payback
Profitable repeat business
Pays for itself quickly
The Market is exploding because:
Affordable by everyone
Fast, safe and effective
Non ablative
Non invasive
Broad range of users
Proven NASA technology
Biggest "Bang for your Buck" of any cosmetic procedure
When you market the DPL® Therapy System, your customers will receive the many
benefits that science has proven for Red and Infrared light.  DPL Therapy is one
of the few non-invasive tools available that can reverse the effects of aging
skin.
DPL® Therapy System – Clinical Study Information
In a
clinical study to determine the efficacy of the DPL® Therapy System, 13 subjects
received DPL® Light Therapy treatments over 10 weeks. 100% of the subjects
reported visible improvement in fine lines, wrinkles and skin tone.
Reduction of fine lines: 75 % of the subjects rated their improvement
between 3 and 5 (on a scale of 5) over the ten week treatment cycle.
Reduction of crow's-feet: 66.6% of the subjects rated their improvement
between 3 and 5 (on a scale of 5) over the ten week treatment cycle.
Improvement in skin tone: 91.6% of the subjects rated their improvement
between 3 and 5 (on a scale of 5) over the ten week treatment cycle.
Overall skin condition: 91.6% of the subjects rated their improvement
between 3 and 5 (on a scale of 5) over the ten week treatment cycle.

Start your own LED Light Therapy Facial business.  Get the
DPL® Therapy System and Light Driven Peptide for your new business here.

Click here to get your
free copy of "Work from Home with Your Own LED Light Facial
Business" No strings attached.