The Adovia Eye Gel Reduces Eye Puffiness And Moisturizes For A Smooth Eye Contour.
I have to admit I was a bit reluctant to try the Adovia Dead Sea Mineral Eye Gel because I find most eye gels just sit on top of the skin and remain tacky and sticky.  Trying to place makeup over eye gels has been a disaster to say the least.
I was sent a sample of the Adovia Dead Sea Mineral Eye Gel and thought, oh boy here we go. I have to say that I was very pleasantly surprised. When I applied it under my eyes it was velvety smooth, felt fantastic and soaked right in.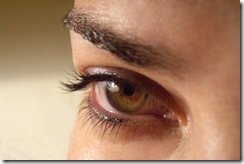 I really couldn't believe it. When I gently felt the skin under my eyes it felt soft, smooth, with absolutely no stickiness. It kept my eyes hydrated and reduced the puffiness I have due to lack of sleep.
It's a light and sheer gel that is infused with active minerals from the Dead Sea along with vitamins A and C and a slew of other fantastic ingredients. However, I was disappointed to see a paraben in the list of ingredients but spoke with the owner of the company and had my mind put to ease when she said she was having it re-formulated without any parabens.
Ingredients in the Adovia Dead Sea Mineral Eye Get include:
Demineralised Water & Dead Sea Water, Stearic Acid, Propylene Glycol & Chamomile (Anthemis Nobilis) Extract & Algae Extract & Papaya (Carica Papaya) Extract & Aloe Vera (Barbadensis) Gel, Caprilyc/Capric Triglyceride, Cetearyl Alcohol, Potassium Cetyl Phosphate, Sweet Almond (Prunus Amygdalus Dulcis) Oil, Glycerin, Carbomer, Olive (Olea Europaea) Oil, Geranium Maculatum Oil, Evening Primrose (Oenothera Biennis) Oil, Urea, Hydroxypropyltrimonium Hydrolyzed Keratin, Peach (Prunus Persica) Kernel Oil, Cornflower (Achinicea Pallida) Extract, Lactic Acid, Hydrolized Collagen, Benzoic Acid, Chlorphenesin, Dehydroacetic Acid, Benzalkonium Chloride, Propylparaben, Dead Sea Salt, Exotic Verbena (Litsea Citrata) Oil, Ginseng (Panax Ginseng) Extract, Soybean (Glycine Soja) Extract, Ascorbic Acid, Retinyl Palmitate.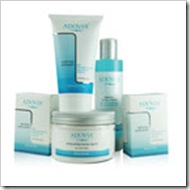 Overall, I was very impressed with the Adovia Dead Sea Mineral Eye Gel. When reading what others had to say about this product I could see that it has a following of women who LOVE this gel and have seen fantastic results.
You can purchase the Adovia Dead Sea Mineral Eye Gel at Cleopatra's Choice and receive free shipping.