Eye Serums Promote Smoother and Younger Looking Eyes!
Eye serums can really kick things up a notch when it comes to your skin care regimen.  They are more concentrated, more potent, and penetrate more deeply into the layers of the skin than their counterparts, eye creams.
By combining powerful ingredients into a highly reparative potion you can dramatically improve your eye area.  Eye serums really blast your skin with age fighting, nourishing, and high performing ingredients.
Eye serums revitalize, rejuvenate, and replenish the delicate skin around your eyes giving them a refreshed and more youthful appearance.  Because of the luxuriously thin consistency of eye serums they quickly sink into the skin and can either be worn alone or layered with a rich eye cream.
There are a number of eye serums on the market that deliver remarkable results and dramatically improve the eye area creating a smoother, refined, refreshed and younger appearance.  Don't get frustrated or confused about which eye serum to buy.  Here are some highly rated, tested, and effective eye serums that get truly amazing results.  You really can't go wrong with any of them.
Try one of the following products:
Rhonda Allison Eye and Lip Repair Serum $55.00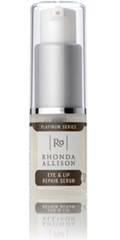 Benefits:
Reduces fine lines and wrinkles
Rejuvenates
Stimulates collagen and elastin
Firms, tones, and tightens
Smoothes
Reduces puffiness
Nourishes
Softens
This unique eye serum melts into the delicate eye tissue where it softens, hydrates, lessens puffiness, and reduces fine lines and wrinkles.  The fragile skin around the eyes is replenished, rejuvenated, and nourished with vitamins A and C, Cholesterol Liquid Crystals, and silk extract.
Ingredients:
Cholesterol Liquid Crystals (Cholesteryl Stearate/Carbonate Complex), Zea Mays (Corn) Silk Extract, Retinol, L-Ascorbic Acid, Phenyl t-Butylnitrone (Spin Trap), Citrus Aurantium Bergamia (Bergamot) Fruit Oil, Pelargonium Graveolens (Geranium) Flower Oil
Skin Script Peptide Eye Treatment $30.00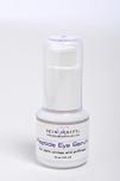 Benefits:
Reduces wrinkles
Alleviates dark circles
Firms and tightens
Soothes
Hydrates
This peptide eye serum is a treatment that alleviates dark circles, hydrates, tightens, firms, and reduces wrinkle depth while soothing and calming the eye area.  It delivers results with powerful ingredients including peptides, vitamin C, vitamin K, and Caffeine.
Active Ingredients:
Palmitoyl Tetrapeptide-7 and Palmitoyl Oligopeptide, Acetyl Hexapeptide-8, L Ascorbic Acid, Phytic Acid, Tartaric Acid, Hesperidin, Caffeine, Spintrap (PNB)
Priori Idebenone Eye Serum $67.50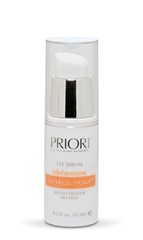 Benefits:
Reduces wrinkles
Firms and tightens
Rejuvenates
Hydrates
Protects your skin from free radicals
This eye serum repairs under eye damage with Idebenone, alpha hydroxy acids, vitamin A, and peptides.  It has been shown to reduce lines and wrinkles within a matter of weeks.  The eye area becomes more toned, tightened, and rejuvenated.  Priori's eye serum fights aging, protects with antioxidants, and hydrates to create a more youthful appearance.
Ingredients:
Idebenone 0.5%, A2 complex (Lactic compound 12%, Vitamin A 0.15%), Glycerin, Algae extract, interference pearls, caffine, pamitoyl tripeptide-3.
Glycolix Elite Eye Serum $29.20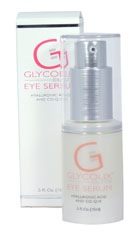 Benefits:
Stimulates collagen
Reduces wrinkles
Hydrates
Nourishes
Protects from free radical damage
This light and nourishing eye serum delivers astounding results with antioxidants, vitamins A, C, and E, as well as hyaluronic acid.  It nourishes, protects, and fights aging with effective and proven ingredients.
Ingredients:
Glyceryl Polymethacrylate, Cyclomethicone, Dimethiconol, Purified Water, Phospholipids, Hyaluronic Acid, PEF-40 Sorbitan Diisostearate, Green Tea Extract, Pohysorbate-81, Ascorbyl Palmitate, Coenzyme Q-10, Chitosan Ascorbate, Superioxide Dismutase, Ascorbic Acid, Tocopheryl Acetate, Retinyl Palmitate, PEG-15 Cocamine, Laureth-9.
Essona No Lines Organic Eye Serum $49.00

Benefits:
Firms and tones
Brightens
Reduces fine lines and wrinkles
Smoothes
Hydrates
Soothes and calms
Fights off free radicals
This rich and revitalizing eye serum contains a plethora of organic extracts and oils, vitamins A, C, and E, natural peptides, hyaluronic acid, and antioxidants.  The results are instant and accumulative. It firms, tones, tightens, brightens, reduces fine lines and wrinkles, and smoothes the delicate skin around the eyes.
Ingredients:
Organic Aloe, Glycerin, Food Grade Emulsifier, Organic Oil Blend of: Macademia, Jojoba, Grapeseed, Argan, Borage, Rose Hip, Squaline, Bisebolol, Hyaluronate, Para Cress, Resveratrol, CoQ10, Macelignan, Organic Sea Buckthorn Extract, Organic Rose Extract, Calendula, Caffeine, Vitamin C, E, Preservative Blend