Rhonda Allison Blemish Serum
When blemishes sneak up and ruin your day it can be extremely frustrating, especially if you aren't prepared with a treatment product. It seems as though blemishes always show up when you NEED to look your best. Having a serum on hand to knock the blemish off of your face will get you back to having great skin in no time.
All too often blemish treatments can be harsh and drying. They can cause other problems that are even more difficult to cover up such as dry flaky skin.  I can't tell you how many times I have over-treated a blemish only to have it look ten times worse the next morning.
Rhonda Allison Blemish Serum is a blend of pure ingredients that gently soothe and treat blemishes. It contains natural antibacterial and antiseptic ingredients that help to clear your skin of problematic blemishes. With this serum you can gently and effectively treat those stubborn blemishes that show up at the worst times.
Recommended Use:
Cleanse your skin thoroughly, blot dry, and then apply the blemish serum to any problem areas. This treatment serum may be used twice daily.
Active Ingredients:
Water, witch hazel, salicylic acid, mushroom extract, ethanol, sorbitol, niacinamide, yeast extract, horse chestnut extract, green tea extract, D-panthenol, zinc gluconate, D-biotin, totarol, xanthan gum, tea tree oil, grapefruit oil
Full list of Ingredients:
Aqua (Water), Alcohol Denatured, Hamamelis Virginiana (Witch Hazel) Water, Glycerin, Salicylic Acid, Fomes Officinallis (Mushroom) Extract, Resorcinol, Hydrolyzed Yeast Protein, Pyridoxine, Niacinamide, Glycerin, D-Panthenol, Allantoin, D-Biotin, Methylcellulose, Totarol, Camellia Sinensis (Green Tea) Leaf Extract, Citrus Medica Limonum (Lemon) Peel Oil, Eucalyptus Globulus Leaf Oil, Melaleuca Alternifolia (Tea Tree) Leaf Oil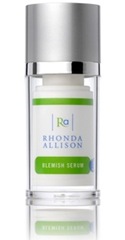 Rhonda Allison Blemish Serum (Pure Blends)
Free Shipping
$37.00  1.7oz
$21.00  1oz
$13.00  .5oz