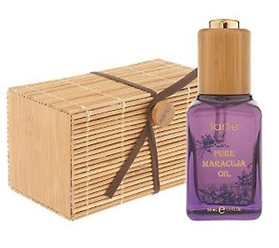 There is a lot of excitement buzzing around Tarte's Maracuja Oil from the spectacular Amazon region.  It is exclusive to QVC until December 21, 2011, you can't even get it on the Tarte site. 
The Maracuja oil is derived from the passion fruit in the Amazon.  Only one crop is harvested each year by the Amazonian women.  Tarte has a cooperative in the Amazon that helps the women of the region.
Maracuja oil is rich in vitamin C, calcium, phosphorous, and has a very high content of essential fatty acids.  It is touted as "the pure miracle" because of the incredible benefits it offers your skin.
Benefits of Tarte Maracuja Oil
Rebuilds and repairs
Deeply hydrates
Reduces lines and wrinkles
Brightens
Improves elasticity
Smoothes
Improves tone and texture
Nourishes
Maracuja oil is an incredibly effective oil that is going to take the skin care industry by storm.  It is loaded with nourishing and reparative properties that absorb beautifully into your skin leaving it soft and supple.  No wonder it's called "the pure miracle."  In one study, 94.3% of subjects reported that their skin appeared renewed and rejuvenated after only 6 weeks of use, that is truly an amazing percentage! 
Tarte's Maracuja Oil is a completely natural oil that doesn't contain any harsh chemicals or preservatives and does wonders for your skin.  It' pure magic from the Amazon!