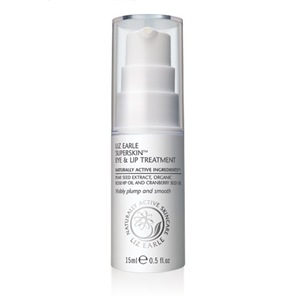 Let me start off by saying that I LOVE the Liz Earle Naturally Active skin care line; it is one of my favorite lines.  The Superskin Eye and Lip Treatment is truly a superior eye cream to many that I have tried.  It's an intensive yet very luxurious cream that sinks in quickly without leaving a greasy feel.
This eye treatment is packed with incredibly effective botanicals that infuse your skin with the powers of nature.  With pear seed extract, organic rosehip oil, cranberry seed oil, and pomegranate fruit extract this rich cream drenches your skin with potent nutrients that nourish and fight aging.
Benefits:
Reduces lines and wrinkles
Smoothes
Firms
Rejuvenates
Improves elasticity
Fights free radicals
Soothes
Moisturizes
My skin just drinks this stuff in leaving my eye area soft, smooth, and tighter.  When using this intensive cream I notice a significant improvement in the firmness under my eyes.  Its creamy texture feels wonderful as it soothes away my fatigue.  I have to say that my eyes look refreshed and rejuvenated after using this little miracle in a bottle.
Liz Earle creates undeniably exceptional products that really WORK!  I especially love her Superskin line which happens to be designed for more mature skin, like mine.  It's gentle, effective, nourishing, anti-aging, and all natural.  The Superskin Eye and Lip Treatment is works fantastic with the other Superskin products as well as other skin care lines.  Liz takes great care to put products out there that do what they say they are going to do without jeopardizing the health of your skin.  If you are looking for an eye cream that fights aging and contains natural ingredients then you will love this eye treatment.