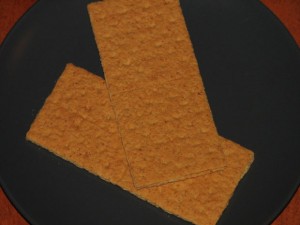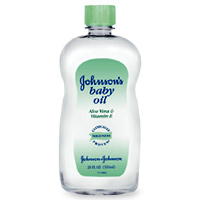 So, last night I went to my children's science fair at school and lo and behold my daughter's good friend did her project on mineral oil and whether or not the skin absorbs this petroleum derivative. I was thrilled to see someone in fourth grade interested in this topic and loved hearing all about her experiment. I wish I had her pictures to show you because they were priceless.
I will do my best to relay her findings, but I'm sure I won't do nearly as well as she did. She had two cups; one filled with water and one filled with
baby oil. She then placed a graham cracker in each cup and observed the changes within each graham cracker. The crackers sat for 12 hours before she removed them to discover the effects on each one.
The cracker that was submerged into the water absorbed the liquid making it mushy. It completely fell apart in her hands leaving a soggy mess. The cracker that was submerged into the baby oil (mineral oil) hadn't absorbed the oil and was left intact with a shiny cover. My daughter's friend described it as "looking like plastic." Her conclusion was that the skin does not absorb mineral oil. It was a very interesting project and she did an excellent job of showing how mineral oil just sits on top of your skin and doesn't offer any nutrients.
It is an inexpensive ingredient that is used by countless skin care companies providing a barrier between the skin and the air meant to lock moisture in.  However, because it just sits on top of the skin it can clog pores causing
blemishes and keeps the skin from eliminating toxins naturally. According to the EWG (Environmental Working Group) it provides a moderate
health risk (3 out of ten, ten being a high health hazard). Most natural lines avoid it and use other beneficial oils that help the skin function properly and promote a healthy glow.
For those of you who are looking for more natural skin care that provide pure and safe ingredients then I would recommend staying away from mineral oil. However, if you are using products that contain this oil, I wouldn't panic but be aware that it may cause more harm than good and in the future you may want to avoid it and stick to more wholesome and nourishing ingredients.