Quasar Sale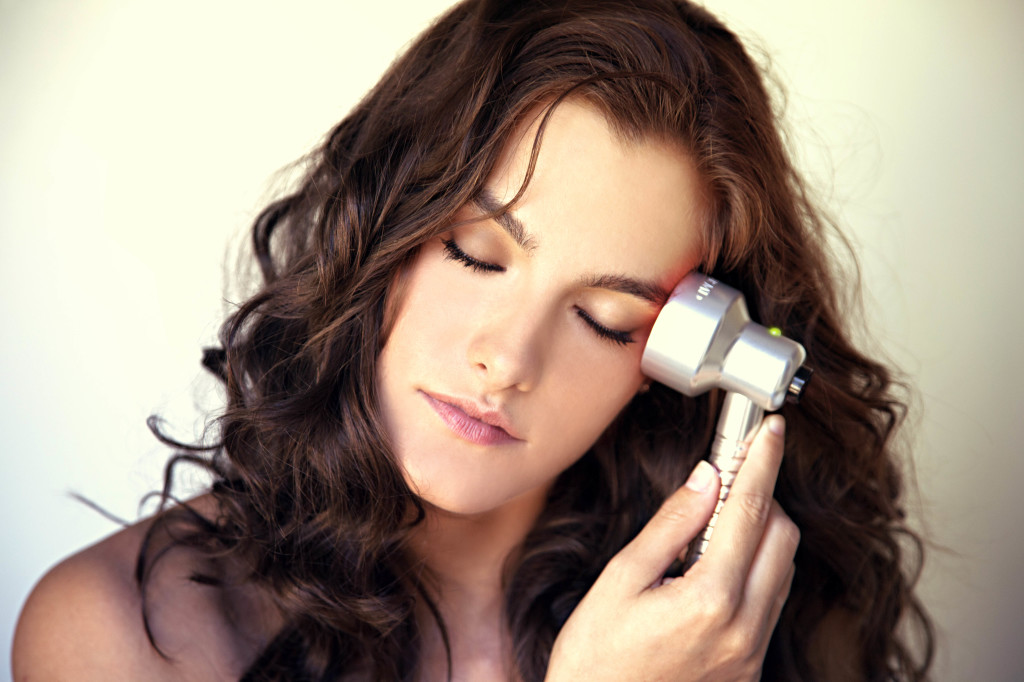 Fight Aging Easily with the Baby Quasar PLUS or the Quasar MD
Did you know that you can get more beautiful skin with fewer wrinkles and crinkles by simply bathing your skin in powerful reparative lights? We all age, yes it's inevitable, but even as you grow older don't you want to look the best you can look? Maybe even look 10-15 years younger? Imagine friends, family, or even strangers complimenting you on your beautiful glowing complexion!
The Baby Quasar PLUS and the Quasar MD are exceptional anti-aging tools that are 4 times more powerful than other light therapy devices on the market. These two petite powerhouses use 4 specific wavelengths to treat frustrating skin conditions and wrinkles due to aging. The have the ability to stimulate mitochondria, increase cellular metabolism, and boost collagen and elastin production. An increase in collagen and elastin helps your skin act and look younger, decreasing lines and wrinkles and giving your skin its bounce back.
So, what's the difference between the two? Both the Baby Quasar PLUS and the Quasar MD are made from medical grade aluminum and contain superluminous (highest grade and more powerful) LED bulbs calibrated at 4 different wavelengths (red, super red, red/amber, and infrared) to reach all depths of the skin. Both create the ultimate spa experience and both produce amazing results, but the Quasar MD is 50% stronger than the Baby Quasar PLUS and contains larger LEDs as well as a larger head size for a much faster treatment.
Quasar MD Facts:
4x More powerful than the closest competitor
50% more powerful than the Baby Quasar PLUS
Includes red, red/amber, amber, and infrared wavelengths
High quality anodized aluminum
Dermatologist recommended
Lifetime "No Questions" warranty
Proven results at home and in spas
FDA cleared Class II Medical Device
Baby Quasar PLUS Facts:
4x More Powerful than the closest competitor
Includes red, amber, and infrared wavelengths
High quality anodized aluminum
Dermatologist recommended
Lifetime "no questions" warranty
Proven results at home
FDA cleared Class II Medical Device
As you age, your body produces less collagen causing your skin to lack firmness, look less full, and accumulate lines and wrinkles. By increasing your collagen and elastin production, the Baby Quasar PLUS or the Quasar MD will help the skin look younger, smoother, more firm, supple, and healthier.
The Baby Quasar PLUS and the Quasar MD are designed to direct the reparative wavelengths deep into the skin. Their sleek design doesn't allow any of the lights scatter so the wavelengths are more powerful as they are driven into your skin at a cellular level prompting age-defying properties to ensue. It's the most advanced and powerful anti-aging beauty tool available for home use.
The Baby Quasar PLUS/Quasar MD reduces wrinkles and promotes new collagen production easily, effectively, and in the comfort and privacy of your own home.
It's a New Beauty award recipient for good reason; it works! They are both FDA cleared medical devices that exude pure luxury and pack a powerful punch! Packaged in a beautiful black case they are extremely portable and their exceptional quality looks professional, feels professional, and  produces professional results.
Just look what others have to say about this phenomenal beauty tool:
Testimonials:
"Hi, Victoria, I have just tried Quasar MD PLUS on my right side of my face. It's great! Position of my eye is up, face is firming! Only 2 minutes! Is it really? Doing the Quasar is very easy and simple. From now on, Quasar is my treasure. I am so happy to find your website. Thank you for everything!" Yasuko ~ Japan
"Good morning Victoria, Thank you again for your guidance. Since taking the cap off, I really see a major difference in my skin. It's firmer, pores are much less noticeable, the tone is even, and I have a nice glow. Yay! I'm getting such great results!"  Leah G.
"I love the Quasar, it is very powerful and effective, my periorbital wrinkles are already diminished with just two weeks use, something which even Refirme or fractional co2 lasers could not do or maintain. I have always had huge eye bags since my teens but now they are miraculously firmed up. There is this subtle, but very visible uplifted look to the cheeks and upper jowls. Even when getting red led treatment from spas and clinics, their effect was minimal and nothing at all compared to the Quasar's power, indeed very significantly more powerful, like 10x more, I can see visible instant results, even without sleep it makes the face look less tired, plus I can use it at home at my own pace. Even the Quasar MD Blue brings a glow to a tired face."
Posted By: Caroline W.
"I use my Baby Quasar mainly to reduce the oily skin around my nose and cheeks. I am 41 years old, I started getting tiny flaky crusts on my forehead and I kept getting more and more. My derm confirmed I had Actinic Keratosis (sunspots). I was quite worried because this could turn cancerous over time. My derm wanted to freeze it however I don't want a scar on my forehead and wanted to try something more natural. I started putting the Baby Quasar on my forehead every evening for 4-5min for 7 days. After the second day I saw an improvement and now 2 weeks later my skin has completely healed and I cannot see I ever had anything there. Thanks Baby Quasar."
Posted By: Kate D.

"I developed adult acne and was breaking out with several cystic lesions a month around my chin. After one week of using both lights (alternate days), I only developed a few minor pimples. They never got swollen or red and treatment with the blue light healed them by the next day. I have developed 0 new pimples in the last 3 weeks, in spite of stopping oral antibiotics to control the acne. My skin is smooth and perfectly balanced, not oily and not dry. I wear only sun screen on my face now as foundation of any kind is unnecessary. My husband has used the blue light on a couple of severe ingrown hairs on his face and has had similar results with rapid healing taking place."
Posted By: Kristine M. Age 42 with extremely sensitive but, combination skin
"As a celebrity makeup artist, I spend most of my time making other people beautiful however a big part of my job is looking the part, that means looking youthful and having great skin. I noticed a difference in pore size and an overall evenness in pigmentation after two treatments! The Baby Quasar is a DREAM come true for me. My skin is radiant, firm and glowing. I cannot say enough about this. No more expensive laser treatments, with my busy schedule I can do this treatment in bed flipping through my favorite magazine! I absolutely love it and cannot wait to try the acne blue light therapy! I highly recommend this product to EVERYONE!!! Stay youthful and beautiful with the Baby Q!" Posted by: Maria Maio, Celebrity Makeup Artist, NYC
"I work as a makeup artist in film and TV and the baby quasar really does what they said!!!! I have watched it make pore size drastically smaller…. And calm red skin while plumping fine lines on tired skin. Highly recommend the acne blue one too…. Men and women. Reduces those pimples that feel like they have their own heartbeat. Firm believer."
Posted By: Autumn Butler
"My wife has been using the Quasar on her face at home four times in the last seven days. She is starting to get comments on how young she is looking. Today she went to the dentist and the receptionist said that she thinks they transposed the numbers on her birth date, she was born in 1968, and my wife told her that's the right date. The receptionist said really I thought you were a teenager."
Posted By: Shawn Johnson DC, CCSP

Featured In:
Vogue  *  New Beauty  *  New York Times  *   The Doctors
WHAT TO EXPECT WITH YOUR BABY QUASAR PLUS/QUASAR MD: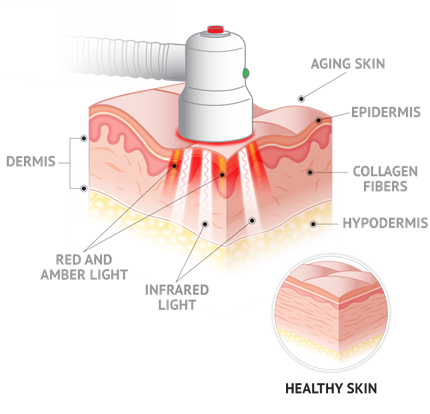 Benefits:
Stimulates collagen and elastin production
Reduces lines and wrinkles
Diminishes age spots and scarring
Evens out skin tone
Tightens and firms the skin
Diminishes the look of pore size
Smoothes the texture of the skin
As we age, the body reduces its production of collagen and elastin, the key building blocks of healthy skin. Medical science has found when light-red, dark-red, and amber combined with infrared light is applied to affected skin, the results include the production of new collagen and elastin.
The Baby Quasar PLUS and the Quasar MD contain Amber at 610 nanometers, Amber/Red at 640 nanometers, Super Red at 660 nanometers and Infrared at 850 nanometers.
Before and After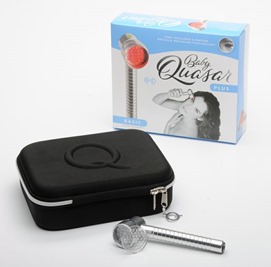 What's Included with the Baby Quasar PLUS:
Baby Quasar PLUS
Travel Carrying Case
Protective Lens Cap
Instruction Manual
4x More Powerful than the closest competitor
Includes red, amber, and infrared wavelengths
High quality anodized aluminum
Dermatologist recommended
Lifetime "no questions" warranty
Proven results at home
FDA cleared Class II Medical Device
What's Included with the Quasar MD:
Quasar MD PLUS

Active Rx Cleanser 1.7 oz.

Travel Carrying Case

Protective Lens Cover

Instruction Manual

4x More Powerful than the closest competitor
50% Stronger than the Baby Quasar PLUS
Includes red, amber, and infrared wavelengths
High quality anodized aluminum
Dermatologist recommended
Lifetime "no questions" warranty
Proven results at home
FDA cleared Class II Medical Device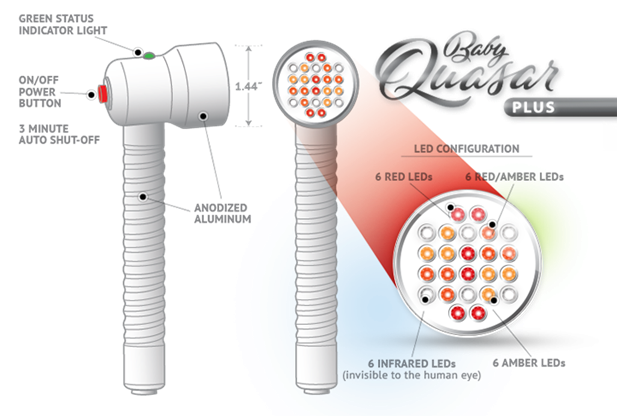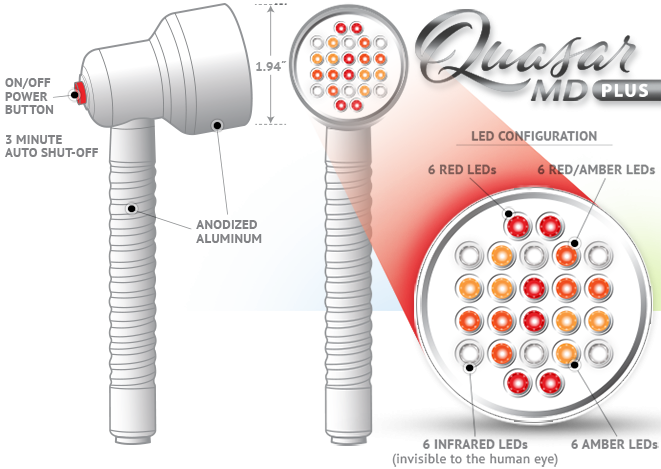 My expertise is in LED light therapy and I am here to answer any questions you might have and here to offer you the BEST options in this exciting field. I only recommend systems that I know work and produce REAL results. You can email me anytime at victoria@revealgreatskin.com and I will get back to you right away. I am here to help you get gorgeous skin that you feel amazing about. I want you to shine as bright as you are meant to shine and having a more beautiful and youthful complexion helps you do just that.
FAQs
Q:  How often can I use the Baby Quasar PLUS?
A:  It is recommended that you use it a minimum of 3 times a week for the first 8 weeks. Maximum use if 5 times a week. Overuse may result in dryness.
Q:  How often should I treat after the 8 weeks?
A:  Once or twice a week or as needed.
Q:  Are Quasar treatments safe?
A:  All Quasar devices have been FDA cleared for safety. There are no reports of serious side effects from using red, infrared, or blue light on the skin.
Q:  Does the Baby Quasar PLUS contain UVA or UVB wavelengths?
A:  No, the Baby Quasar PLUS is considered a safe treatment without harmful UVA or UVB.
Q:  Why does it contain 4 wavelengths?
A:  The Baby Quasar PLUS contains 4 different wavelengths of light penetrating the skin at different depths, thus enhancing the treatment. As a result, your skin will benefit from the inside out.
Q: How quickly will I see results?
A:  For most users, the skin looks and feels different after the first treatment. Your skin will appear smoother and more hydrated, with a natural radiant glow. Individual results will of course vary from person to person and condition to condition. Building collagen in the skin takes time, and the user can expect to see the most benefits after 8 weeks of consistent treatments.
Q:  How long will the benefits last?
A:  For most users the benefits will last weeks. Your skin will continue to age and is exposed to assaults on a daily basis, a maintenance program of weekly treatments will help to maintain the beaut of your skin.
Precautions:
Do not look directly at the light. The bright light may cause pain or a headache.
Do not use the Quasar if your skin is sensitive to light. This may be determined by consulting with a medical doctor.
Do not use the Quasar if pregnant without consulting a doctor first. Quasars have not been tested for use during pregnancy.
For anyone concerned using the light due to medical conditions we will always recommend that you consult with your physician as they will have  access to all your medical issues and conditions.
What is the return or cancellation policy?
45-Day money-back guarantee Terms on all Returns: Save your  invoice. All returns must be issued an RMA# within 45 days of purchase. Without an RMA # your return cannot  be accepted. To be issued an RMA#, you acknowledge the terms noted herein. All items must be included in box and in new condition. RETURNED  LED's will be charged a 25% restocking fee.   Return shipping is your responsibility and is non-refundable. Please email  info@revealgreatskin.com   include your  full name, country and date of purchase in your email and we will forward return  instructions.
"Open Box Units":  On the rare occasion that we receive a returned "open box" unit in new condition containing all original package contents we will offer it at a huge discount.   These units cannot be returned.  Please email info@revealgreatskin.com if you are interested in being put on a wait list.
Cancellations: All orders are automatically processed through our secure merchant processor which incurs fees. If you cancel your order BEFORE it has been shipped, you will be assessed a small cancellation fee of $5.00  before credit is issued. We are very sorry, but we cannot accept cancellations if your order has already been shipped. Orders which are refused at delivery will NOT be credited. S & H and freight delivery costs are non-refundable. We are sorry but there are no exceptions.