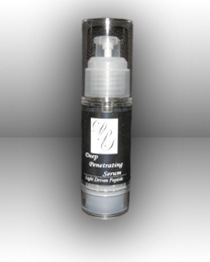 Deep Penetrating Light Driven Peptide Serum
When you combine light therapy with a light driven peptide serum you drastically enhance wrinkle reduction and greatly improve the tone of your skin. Peptides have been shown to stimulate collagen and elastin production, reduce wrinkle death, increase skin thickness, and improve the overall appearance of your skin.
Peptides actually have the ability to send messages to your cells instructing them to act in a certain way. The deep penetrating serum contains three incredible peptides that can dramatically improve your skin.
Acetyl hexapeptide – 8, or Argireline, reduces the depth of wrinkles that are caused by facial movements. It inhibits the reactions that cause muscles to move or contract.
Pentapeptide-3 also known as Matrixyl stimulates the lower levels of the skin to heal themselves and greatly increases collagen synthesis by up to 117%. Not only does this peptide diminish fine lines and wrinkles but it has also been shown to reduce deep wrinkles by half.
Palmitoyl Oligo Pentapeptide has also been shown to stimulate collagen and elastin synthesis as well as hyaluronic acid production resulting in a reduction in wrinkle depth. This particular peptide also reduces skin roughness and increases skin thickness.
Benefits:
Moisturizes
Firms
Smoothes the skin
Reduces wrinkles
Rejuvenates
Promotes healthy skin
Slows down the aging process
After a 6-month study the surface area of deep wrinkles decreased by 68% and in some cases decreased by as much as 90%, the area of moderate wrinkles decreased by 51%, and the density of the main furrows decreased by 47%.
The Deep Penetrating Peptide Serum has a velvety texture that absorbs quickly into the skin leaving it soft and supple. It feels fantastic and works great layered with other products. I really love this serum and apply it before doing a DPL light treatment. I also use it in my regular skin care routine both morning and night.
I was amazed that after using it only a few times with my light I could tell a definite difference in my skin.  I really love my DPL light as a stand-alone tool but when I added this serum I saw improvements in my skin dramatically faster.
It's packed with incredible ingredients that really get in there and promote younger looking skin. Then when you combine it with light therapy the results are nothing short of astounding.