This post may contain affiliate links. I may receive commissions for purchases made through links in this post. I will never recommend any products that I don't believe in. Please read my Disclosurefor more info.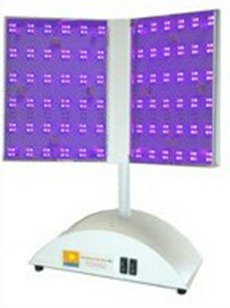 Just when you thought your only battle was with Father Time, acne rears its not so pretty head and ruins you day, week, or even months. It's hard enough trying to keep the signs of aging at bay but then a few pimples pop up and give you something else to contend with.  Discover one simple trick that will help you get more beautiful skin!
There is a blue and red light therapy system that can help you tackle both acne and aging at the same time. The Caribbean Sun Red/Blue Professional light makes it easy and convenient to get clearer and more beautiful skin. It combines 144 blue LEDs that attack and kill the acne causing bacteria, P. acnes and 144 red LEDs that speed up healing and rejuvenate the skin.
Blue LEDs have been proven to be a very effective acne light therapy treatment and when you combine them with ultra-healing and anti-aging red LEDs you have a very powerful combination that produces very impressive results. The Caribbean Sun Red/Blue Pro is so easy to use; don your goggles, switch on the lights, and then all you need to do is relax in front of the two hands-free panels while the reparative wavelengths go to work killing acne and repairing damage.
This one system allows you to treat your skin without turning to dangerous drugs or chemicals and with consistency can make a huge difference in the appearance of your skin. It's a professional, heavy duty, system that treats your entire face in one fell swoop. You don't have to do anything but sit there; it doesn't get any easier than that!
Note: Make sure whenever you use blue LEDs that you wear the protective goggles. Blue LEDs have been shown to potentially damage the eye but with protection are safe.