This post may contain affiliate links. I may receive commissions for purchases made through links in this post. I will never recommend any products that I don't believe in. Please read my Disclosurefor more info.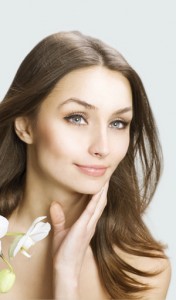 Oh, that dreaded double chin!  Just as you see aging in other parts of your face such as sagging cheeks, loss of firmness under your eyes, and folds around your mouth you can also gain and additional chin.  The muscles that were once tight and firm begin to lose their strength causing your skin to puddle into a turkey wattle.
That darn double chin can make you look older and heavier than what you actually are.  Unfortunately, you can't hide a double chin with turtle necks, scarves, or makeup.  It's right there in front and can't be hidden from view.
Muscle atrophy which occurs as you age can cause your muscles and skin to droop resulting in that unwanted turkey wattle.
You can sculpt your disobedient chin and put it back in its place while promoting younger looking skin.  The Tua Viso Microcurrent device or isometric facial exercises can make a profound difference in your chin area, helping you look younger and thinner.
The Tua Viso is an amazingly simple tool that gives you a non-surgical facelift.  It uses microcurrents to re-train and strengthen the underlying facial and neck muscles that can cause double chins, loose jowls, and more.  You can actually see the muscles contracting.
With diligence and consistency the Tua Viso can help you lift the contours of your face and neck while strengthening your muscles which in turn pull up your skin.
The Facial Magic facial exercise system uses precise isometric exercises, with light resistance, to firm, tone, and contour your facial muscles.  Contortions, twists, and puckers just won't do it and may even advance aging in your face.  But by using specific and exact isometric exercises you can look 10-15 years younger and lose that double chin along the way.
Overtime Facial Magic will help your muscles become stronger and tighter and as they do they will pull your skin beautifully taut.  If a double chin has become your nemesis then fight back by using a system that works.  You will learn step by step how to correctly work your muscles so you look younger, thinner, and gorgeous; you only better.