This post may contain affiliate links. I may receive commissions for purchases made through links in this post. I will never recommend any products that I don't believe in. Please read my Disclosurefor more info.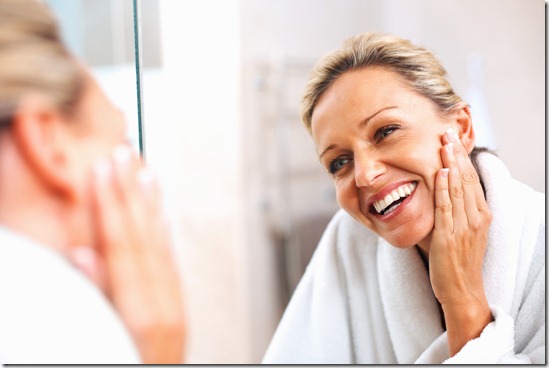 Having enlarged and open facial pores can be very disheartening because it actually makes your skin look rougher and older than it truly is.  Read on to see how to tighten pores and get younger looking skin with simple tips and tricks.
1st of all you need to understand that your pores have several important purposes and are vital to the health of your skin as well as your overall health.  They provide the necessary oils that contribute to your skin's softness and suppleness.  Your pores help regulate your body's temperature by perspiring.  Without pores you would be in serious trouble and your skin wouldn't look too good either.
As you age your skin produces less and less collagen and elastin which are paramount for firm and elastic skin.  As your collagen and elastin production decreases and your elasticity diminish, your pores may begin to stretch and relax causing them to look bigger.
Dirt and sebum add to the equation as they can block your pores, stretching them even further.  This process actually begins in your teens when your sebum production is at its highest.    The level of oil production in your teen years contributes to the size of your pores as an adult.
You can't actually close your pores, nor would you want to.  They serve a vital purpose and it would be detrimental to your skin and your health if they didn't exist.  But you can do some things to help tighten your pore walls and make them look smaller.
1.  Keep you skin clean
Keeping your skin clean is an important step in preventing your pores from becoming blocked and to remove existing oil and debris.  I really recommend double cleansing at night (washing once to remove makeup and toxins from the day and then a second time to truly cleanse the skin) and once in the morning.
2.  Exfoliate
I can't stress enough the importance of exfoliating.  Exfoliating your skin 2-3 times a week with a scrub, peel, mask, or home microdermabrasion system purifies and cleans out your pores while removing dead skin and build up.  Exfoliation instantly makes your skin look clearer and smoother while offering long term benefits.
3.  LED light therapy
LED light therapy units such as the DPL Therapy System, dpl Nuve Beauty, and the Caribbean Sun Skin Rejuvenation Light use very precise wavelengths to penetrate deep into the layers of your skin where they significantly increase collagen and elastin production.  They gently yet powerfully ignite cellular energy promoting tighter pores, smoother skin, and fewer wrinkles.
4.  Microcurrent facials
Devices such as the Tua Viso use microcurrents to agitate the dermis which creates a reaction within your cells signaling them to produce more collagen and elastin.  The microcurrents also help to tighten your skin by strengthening the underlying facial muscles.
5.  Clay mask
Using a natural clay-based mask 2-3 times a week will deeply cleanse your pores purging toxins, oil, and debris.  Look for products that contain kaolin clay which draws impurities and oil from your pores helping them look tighter and more refined.
You can't completely erase the appearance of pores from your complexion, but you can make them look smaller making your skin look smoother and younger in the process.  By taking some steps and being consistent you can improve your complexion by leaps and bounds.  Not only will these tips help improve your pore size but they will make your skin look more alive, vibrant, and healthy.