Infrared & Red Light Therapy –

DPL Therapy System

The DPL Therapy System has been Discontinued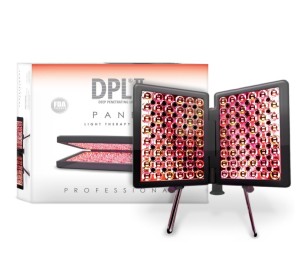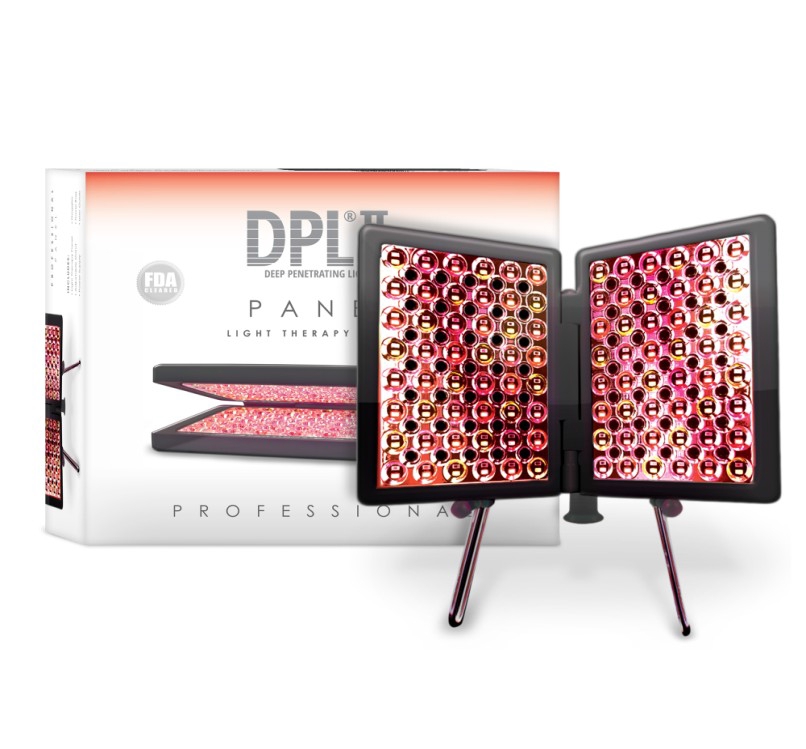 FDA Cleared and extremely versatile, the DPL Therapy System has been shown to offer tremendous benefits to the skin, accelerates healing, and eases pain!
LED Technologies infrared and red light therapy (DPL Therapy System) is a medical device that significantly increases collagen synthesis!
Look Years Younger with the DPL® Therapy System 
Class II Medical Device – Professional Grade – FDA Cleared – Red & Infrared LEDs
Follows NASA's Protocol for Effective LED Light Therapy Treatments

"People, even more than things, have to be restored, renewed, revived, reclaimed, and redeemed;" ― Audrey Hepburn – Iconic Actress
Here's what a handful of customers had to say about the DPL Therapy System (more testimonials further down.)
"Dear Victoria,  I received my DPL red light Therapy system a few weeks ago and have been using it at least 4 times a week. I have found my skin to be more plumped and in particular the areas either side of my nose going down to the corner of my mouth (nasolabial furrow). Also my eyes don't appear to be so tied and droopy.  The appearance of my skin is smoother, fresher, tighter and less lined. The same with my neck and décolletage.  The service of communication from you prior to receiving my system was outstanding and I appreciate your continued advice and follow up, you have been extremely helpful and caring, thank you! I would highly recommend this system to anyone who would like to slow down the aging process as I feel I look at least 5 years younger and look forward to seeing the continued results. Yours in  appreciation,"   Tanya Marchese – Australia
"Hi Victoria, everything is working great and I am looking more and more gorgeous everyday hehe.  I have already had a few people commenting on my skin how great it is looking and I have noticed a huge improvement – a lot more hydrated with a soft dewy look."  Ismae/ New Zealand 
"Hi Victoria, I am amazed at how well the DPL system works.  I get similar results as I have with harsh treatments like retin-A, but without the dry-flakiness.  My skin is smoother, the wrinkles are much less pronounced, my pores are smaller and I have a youthful glow.  It also gives me an excuse to close my eyes, relax and enjoy the warmth for a little break each day.  I have also used it on my wrists for pain management when my wrists get achy from all of the computer work that I do." A.K./CO
"I use it in bed and lay it on my face and decollate':))  I've been doing this 2X day for 17 minutes. A deep wrinkle on my forehead already appears to be minimized.  I've also used this lite for my shoulder pain.  It really helps relax my muscles. I am now using the lite on my hands. I have a friend who is interested because she sees my results! Oh, and I almost forgot…my rosacea has gotten better also!" J.K / OR
"I LOVE this product. I use the DPL "panels" consistently, faithfully all over my body for various injuries, minor & major (ie, cycling, hiking, cat scratches, facial blemishes, wrinkles, etc). I had major surgery & wanted to enhance & accelerate the healing process. My concern was not only the external scarring but sub dermal adhesions. I have had excellent results!! Thank you so much for this product. I refer friends & clients regularly." Sincerely, M California 
"Hi Victoria, I just checked your website, and I must say, I've had really good, visible results with red light therapy. I also like that you recommend natural extracts for facial skincare." – Julie Gabriel Best Selling Author of Green Beauty Books including Holistic Beauty from the Inside Out, The Green Beauty Guide, and Green Beauty Recipes.  (She's one of my favorite authors!)
What is red light therapy?
Red light therapy, also known a LED light therapy or photo rejuvenation, has become increasingly popular due to the fact that you can reverse the signs of aging and look years younger without risky surgery.
Red light therapy was originally discovered by NASA as they were using it in plant growth experiments in outer space and discovered that it was accelerating the healing of the astronauts injures.  Since that discovery they have implemented numerous studies revealing vast improvements in healing and pain management.  They have done extensive research on how red light therapy drastically helps cancer patients manage pain as well as speeding up the healing of mouth wounds that develop due to chemotherapy and radiation treatments.  To read more about a wide variety of scientific studies on the vast benefits of red light therapy visit http://redlighttherapylamps.org (red light therapy scientific research.)
Biologists have found that cells exposed to red and infrared LEDs ranging from 630 nanometers to 880 nanometers grow 150 to 200 percent faster than cells not exposed to these LEDs.   As the lights are absorbed into the skin and tissue they increase energy inside cells that speed up the healing process.  This increase in cellular activity has also been shown to drastically improve the skin, reducing the affects of aging, easing rosacea symptoms, and promoting a more even skin tone along with a beautiful healthy glow!
That's me up in the very top left hand corner at 42 years of age.  I swear by red light therapy and know that it can do for you what it has done for me.  I am so passionate about this therapy because it works!  If you are anything like me then you may be looking for a simple way to…
Reduce wrinkles on your face and around your eyes
Get a more even skin tone
Get smaller pores
Reduce redness
Get firmer and more taut skin
Get a youthful glow
The DPL Therapy System can help you achieve those things and more without scary needles or knives.
I can't tell you how many emails I get from ecstatic women telling me how wonderful the DPL Light is for them:  (I hope to hear from you too!)
 Red Light Therapy Results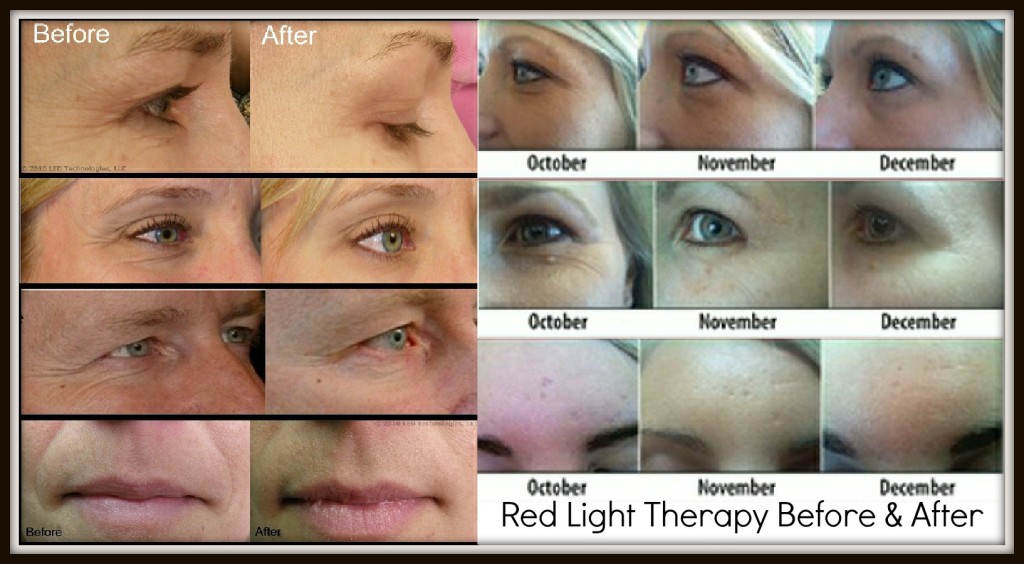 I offer an incredibly deep discount because I believe so strongly that the DPL Therapy System can help you fulfill your dream of a more beautiful complexion and because I am so passionate about this system and what it can do for both your skin and pain management. You deserve to have a red light therapy system in your home and benefit from its intense reparative and healing powers.
Don't miss out on this opportunity because every day that passes your skin only continues to age and get damaged from environmental assaults.  Get this best-selling system in your hands so you can start repairing damage and turning heads with your rejuvenated and revitalized complexion.  This same dpl technology was featured on the Dr. Oz show due to the fact that it is so effective.
 Here's what more customers had to say… (more testimonials further down.)
 "Using the system has changed my life. It has plumped up my face and evened out the color. I've noticed the fine lines and wrinkles are removed and it has helped lift my face. I still use it once a day." J.P./MT
"The system has been well worth the money. It really does what it says it will do. My wrinkles and fine lines around the eyes have tightened and improved. I am very happy and satisfied with the DPL™ it really helps." M.R./Washington
How Red Light Therapy Benefits Your Skin.  What can the DPL Therapy System do for you?
There is nothing out there that can give you the same intense skin rejuvenation results without irritation, pain, or downtime; nothing!  The DPL Therapy System, infrared/red light therapy,  will give you professional results in your own home and your skin will respond by looking better and better.  No need to be inconvenienced with driving to a spa or doctor.  You can now reap the rewards of this powerful technology right in your own home.  Your skin will begin to glow with youth and vibrancy.  Your lines and wrinkles will begin to diminish, your age spots will fade, your pores will shrink, and your skin will develop a beautiful even tone.
Promotes healthy skin
Reduces the appearance of wrinkles
Reduces the appearance of crow's feet
Reduces the appearance of under eye wrinkles
Diminishes the look of forehead wrinkles
Speeds up the healing of blemishes
Relieves eczema symptoms
Helps eliminate rosacea
Lifts and tones
Improves skin tone
Stimulates collagen and elastin
Increases elasticity giving your skin more bounce
Activates fibroblast cells which create collagen and elastin
Helps to repair sun damaged skin
Promotes firmer skin
Creates more moisture within the skin
Increases circulation which provides a healthier skin tone
Lessens skin roughness
Lessens the appearance of pore size
Smoothes the texture of the skin
Reduces redness, flushing, and dilated capillaries
Restores the skin's natural collagen activity
Helps fade scarring and stretch marks
Non-invasive
Non-ablative (is not skin damaging)
Safe and effective for all skin types
Red Light Therapy for Pain Issues
Tennis Elbow
Golfers Elbow
Lymphatic Drainage
Leg Pain
Carpal Tunnel
Wrist Pain
Shoulder Pain
Sore Back
Tight Muscles
Arthritis
Post Event Stress
Range of Motion
Tendon Problems
Deep Muscle Problems
Swelling
Bruises
Ankle Problems
Tissue Repair
Fibromyalgia
Plantar Fasciitis
Inflammation
Nerve Injuries
Strains and Stress
TMJ
Spasms and Knots
Muscle Atrophies
Cartilage Wear
Bursitis
Neuralgia
Hematomas
Pain Relief
Scar Tissue
Neck Pain and Stiffness
Ligament Tears
Torn Cartilage
FDA Cleared
The DPL® Therapy System (LED red light therapy) is fantastic for both skin rejuvenation and pain management!
It's is a professional-grade deep penetrating LED red light therapy system that combines 174 red and infrared LED's and is used by estheticians, dermatologists, actresses, models, and people just like you and me for rejuvenating the skin as well as for pain relief.
Red light therapy has the science backing it and the results to prove its ability to repair the skin and give it a healthier and more youthful appearance.
Infrared and red light therapy, as reported in the February 2007 USA Today Weekend Magazine, penetrates and absorbs deep into tissue, stimulating cellular regeneration for the reduction of wrinkles, fine lines and crow's feet.  It has also been proven to relieve pain and help in healing deep tissue injuries.
There have been many scientific studies that have shown LED red light therapy rejuvenates the skin, stimulate collagen and elastin, as well as increases cell activity.
In fact the FDA has approved the DPL® Therapy System for over-the-counter home use.   When used consistently, red light therapy can help skin appear younger, smoother, more radiant, and more vibrant and offer great relief from pain issues.
Here is how I came to LOVE red light therapy:My Results With the DPL Therapy System
I was coming up on my 40th birthday and was looking much older than how I felt.  My eye area began looking like crinkled up tissue paper before I even hit thirty, not a good look!  I had been hiding behind my sunglasses for years and was tired of it.
As 40 quickly approached I decided to do something that would actually turn back the hands of time rather than just covering up my age.  I wanted that elusive fountain of youth!
That's when I stumbled upon the "LED red light therapy of youth"; the DPL® Therapy System.  And when I discovered that you can use LED red light therapy for pain anywhere in the body I was really hooked.  It's something the entire family can use which makes it well worth the price.
All it takes is 17 minutes to begin changing your skin.  You relax in front of the two large panels for just minutes a day and feel as though you're basking in the warmth of the sun, without the risk of UV radiation exposure.  I imagine that I am stretched out on a beautiful beach and all of my cares have vanished out to sea, it's a fantastic way to start my day.
You can listen to soothing music as your skin drinks in the miraculous healing and reparative wavelengths.  The infrared and red light therapy wavelengths gently penetrate deeply into your skin where the they work hard repairing damage.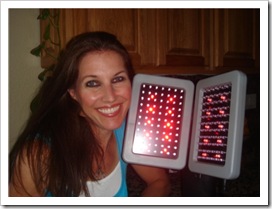 I noticed improvements in my skin almost immediately with red light therapy.  My complexion took on a youthful glow, my pores seemed smaller, and my skin just looked smoother and more alive.  After using red LED light therapy regularly my wrinkles began to diminish and I no longer harbor that crinkled up tissue paper under my eyes.
I don't hide behind glasses anymore and looking better makes me feel empowered and liberated.  Feeling better in your own skin makes you feel free and more confident. The DPL Therapy System gives you that confidence.
Here's a true story; I was having lunch recently with a long-time friend, one who I have known since I was in 2nd grade, when she asked me what I was using on my skin.  She said, "You don't have any wrinkles and you're skin is so smooth, I want what you have!"  I, of course, was beaming.
I told her how the DPL Therapy System had transformed my skin and how easy it is to use. Her first question was…"What is the DPL® Therapy System ?"  I explained that it's a red light therapy system and then further explained what red light therapy is, how it works, and what it does.    She was so excited she could hardly wait to get her hands on one.
I can tell you I feel great knowing she will look and feel younger and more beautiful in no time.  Red light therapy is so simple to use, feels great and is incredibly powerful yet soothingly gentle.
LED red light therapy is becoming increasingly popular with people just like you and me, as well as dermatologists, spas, and celebrities.  In fact not too long ago I received an email from one of my all time favorite green beauty authors, Julie Gabriel who wrote The Green Beauty Guide.  In her email she said:
"I must say, I've had really good, visible results with red light therapy."  – Julie Gabriel
I was thrilled, to say the least, to know that she too had experienced great results with red light therapy.  She is a highly respected author who has created her own unique "green" skin care line and believes in using only naturally safe products on your skin.  If she believes in red light therapy, then there is no doubt in my mind that it must be great.  I know from first hand results that LED red light therapy has improved my skin by leaps and bounds.
I use the DPL Therapy System (red light therapy) regularly and I could go on and on about how much I LOVE this system.
As a wife and mother of 3 amazing children, I am incredibly busy and simply don't have the time to mess around with products that don't work or that take too much of my valuable time.
I have tried a number of the smaller red light therapy devices such as the Beurer Soft Laser and the Omnilux New-U and to be honest they take way too long for one session and I don't have the patience to move the hand-held device all around my face treating only small sections of my face at a time.
Treatments with small hand-held devices can take 30-40 minutes per session and only cover one small area at a time.  The DPL® Therapy System is so easy and fast; just 17 minutes per treatment for my entire face and I just sit there and relax!
Since using red light therapy, more specifically the DPL Therapy System, my skin looks healthier, younger, and more vibrant.  I have seen drastic improvements in my pores, skin tone, wrinkles, and age spots.
When other moms ask me what I use on my skin my answer is always the same; "my can't-live-without product is the DPL® Therapy System."  Red light therapy feels wonderful, is relaxing, and it's effective.
I saw results with the DPL Therapy System within a couple days of first using it.  I noticed that my skin looked smoother, my pores appeared smaller, and my skin tone looked more even and vibrant.  I swear by LED red light therapy!
I have now been using it for awhile and my skin continues to look healthier and younger. My deeper lines that were etched on my cheeks have diminished drastically and are no longer noticeable.
My crow's feet have softened and my skin looks much smoother.  This red light therapy unit has dramatically improved my under eye wrinkles, which happens to be my most frustrating sign of aging.
My toughest and most stubborn deep wrinkles have greatly improved and are definitely less noticeable.  My skin looks better now in my forties than it did in my thirties and it's all thanks to LED red light therapy.
The DPL Therapy System incorporates red and infrared LED light therapy into two large panels that rest on a stand allowing you to enjoy the immense age defying benefits completely hands free. LED Red light therapy is a technology that is entirely natural, painless, simple, and extremely effective.
The DPL Therapy System can fit into any lifestyle and can transform your skin without pain or downtime.  Red light therapy is a gift for the entire family.
 Here's what a few more happy customers had to say (you can find many more testimonials here):

"Hi Victoria,  Wanted to let you know UPS delivered my product right on schedule as promised.  I set it up and used it for the first time.  High strung as I am, I thought I would split the 17 minutes into two sessions, but after the first 8 minutes, I felt so serene I continued until it was finished.  Thanks so much for your good and professional service.  "The hand of the diligent is blessed."  Angela

"I wanted to let you know my mom has been using the DPL for pain she was having in her arm. After the first use she was able to sleep through the night without her arm bothering her. We took a trip this week to Hot Springs Arkansas and she was telling everyone about the product in the bathhouse we visited. She's 68 years old and has arthritis. She has a physical job, lifting and such, working in the school cafeteria. Her shoulder and wrist have bothered her for about a year now. She lived on Ben Gay and Icy Hot Patches. After using the DPL she felt like she'd found a miracle. Much to her surprise as well. She tried it just to humor me. 🙂 Thought you might like the positive feed back. Have passed your contact information to a few people" Jen TX

"I recently had two teeth extracted, one of which was difficult to remove.   It resulted in a very swollen lip and a very sore jaw and mouth, which did not seem to be healing after a week.    When I tried the DPL Therapy, I noticed that my lip and cheek did not hurt as much–almost immediately.  By the next day the jaw and cheek were fully healed.  This was my first experience with the DPL Therapy, and I was stunned at how well it worked."  Ginger -CO

Red Light Therapy Quotes from Magazines, Experts, and Doctors:

"Six weeks of treatment with LED's can significantly improve the appearance of fine lines."
-In Style Magazine/Sept.2008

"Photo Rejuvenation treatment results are the closest thing to a face lift that I've been able to achieve since becoming an aesthetician."   -Day Spa Magazine

"LED's activate the skin's natural rejuvenation process for a smoother, more even complexion."  -In Style Magazine/Sept.2008

"The treatment is especially effective at improving the appearance of the face, neck and chest, by reducing signs of aging, wrinkles and age spots."- Web M.D. Health

"A statistically significant improvement in wrinkles was seen after profilometric analysis. The majority of subjects reported improvements in softness, smoothness, and firmness at all time points. Electron microscopic analysis showed evidence of post-LED treatment of thicker collagen fibers.  633-nm and 830-nm LED treatments play a role in the treatment of photo damaged skin.." – Skin Laser and Surgery Specialists of NY/NJ, New York, NY Goldberg DJ, Amin S, Russell BA, Phelps R, Kellett N, Reilly LA

"At 12-week follow-up, 91% of subjects reported improved skin tone, and 82% reported enhanced smoothness of skin in the treatment area." -International Center for Cosmetic Medicine, Sydney, NSW, Australia

 The  DPL® Therapy System has been seen in countless magazines and its sister product the dpl Nuve has been featured on the Dr. Oz Show!

Red Light Therapy is used and Loved by Celebrities

Celebrity facialist, Kate Somerville, has worked with stunning beauties such as Olivia Wilde, Jessica Alba, Kristen Bell, Debra Messing, Lisa Rinna, and Kate Walsh,  just to name a few, and takes obtaining and maintaining healthy skin very seriously.

She uses LED red light therapy in her clinic and claims that; "LED treatments have greatly changed the way I take care of the clients in my clinic."

She has said that infrared (white) and red light therapy stimulates collagen and elastin production as well as the skin's own ability to heal and rejuvenate.

She also says that red light therapy softens lines and evens out skin tone over time and that not only will you see improvements immediately but that your skin will continue to improve with regular treatments.

Jennifer Lopez has also been reported to use an LED light therapy facial combined with deep exfoliation and microcurrent stimulation to rejuvenate, tighten, and brighten her complexion.

The estimated cost of LED red light therapy treatments in a clinical setting range from $100-$200 per treatment and you would typically need 10-15 sessions.

However, you can now use the same technology in your own home with unlimited access to these amazing red light therapy treatments.  You will look healthier and younger with the DPL® Therapy System within days and you will spend just a fraction of what you would spend to get professional treatments.

As we get older the building blocks of our skin, collagen and elastin, deteriorate causing wrinkles, creases, and folds. Sagging skin results when the breakdown of collagen and elastin is accelerated by sun exposure, pollutants, and gravity.  That's where LED red light therapy comes in.

Red light therapy wavelengths ranging from 630-660 nanometers penetrate into tissue from .31-.39 inches and infrared light wavelengths at 880 nm are able to penetrate into tissue up to 2 inches (skin is about .08 inches) where they stimulate the production of collagen and elastin as well as energizing the cells. Studies have shown that skin cells may grow 150-200 percent faster when they are exposed to certain light wavelengths. These wavelengths increase the energy inside the cells that helps to speed up the healing and repairing process.

Tests have shown that LED red light therapy affects at least 24 different positive changes at a cellular level which results in healthier skin. Because the layers of the skin have a high blood and water content they are able to easily absorb light and respond to this energy by repairing past damage.

LED red light therapy was originally developed for NASA space shuttle plant growth experiments and were discovered to help in speeding up the healing process in outer space. This technology has now been proven to not only help in healing the skin, but also in reducing lines, wrinkles, crow's feet, and pore size as well as countess other benefits.

This 2 panel, hands free red light therapy system can treat your entire face in just two 9 minute sessions a day. As you sit in front of this amazing red light therapy unit and enjoy the warmth on your face, your skin will reap the benefits and respond by looking more healthy and youthful. There are currently many hand held devices on the market but unfortunately they take much longer to use, are not as convenient, and don't have nearly as many LED lights.

Two removable 6½" X 9″ LED panels. Large size allows treatment of full face.
154 880nm infrared LEDs and 20 660nm red LEDs, engineered to produce 4 joules of energy per cm2 in 9 minutes or 8 joules in 17 minutes.
660nm light penetrates 8-10mm, 880nm penetrates 30-40mm (about 1.5-2 inches).
Velcro strap allows placement on arms, legs, neck, etc. for skin rejuvenation and treatment of minor aches and pains.
Built-in minute timer with automatic shut-off at end of 17 minutes. Recommended treatment time for pain: 17 minutes; treatment time for skin rejuvenation: 9-17 minutes.
Stand is weighted for stability. When assembled on stand, the unit sits 18″ high.
Step-by-step treatment guide.
Electrical panel connector and power supply, 100V-240V for use around the world (a plug adapter may be needed outside of the US).
FDA cleared and certified as a Class II medical device.
Quick Start Guide and User Guide
Warranty Card
45 Day Money Back Guarantee
OPTIONAL: 2 foot long interconnect cord for treating two separated areas at the same time, such as knee and elbow. The standard cord included with the system is 6 inches.

How To Use Red Light Therapy For Facial Rejuvenation


• Press the power button. You will hear a beep as the lights come on (the red lights are visible, while the infrared lights are not visible.)

• Place your face in front of the red light therapy panels about a 1/4  inch away from the lights and close your eyes. It is completely safe for the lights to touch your skin.

• The red light therapy device beeps once every minute for a total of 17 minutes. It is recommended that you do 2 treatments a day for the first 10 weeks.

How to Use Red LED Light Therapy for Pain Relief

The DPL Therapy System is able to penetrate deep into the body to ease pain and repair damaged tissues.  It stimulates the production of endorphins and blocks pain-transmitting chemicals relieving pain.

• Using the strap that came with the system, place the panels on the area of your body you would like to treat.

• Press the power button. You will hear a beep as the red lights become visible.

• The red light therapy system will beep once every minute for 9 minutes.

• For pain relief the system should be used for two 17 minute sessions, with 12 hours in between the first two sessions.

Frequently Asked Questions About Red Light Therapy

How often and how long should I use the DPL Therapy System (red light therapy)?

The DPL Therapy System runs for 17 minutes per treatment. It is recommended to do two treatments daily for the first 10 weeks and then two treatments a week after that.

 

How long until I will see results?

It will vary from individual to individual but most people feel and see results with red light therapy in about 4 treatments. Treatments are progressive so the results will continue to get better and better.

 

Does the DPL Therapy System work on most people?

Yes, this red light therapy system has been proven to work on all skin types.

 

Can the DPL Therapy System lights hurt my eyes?

According to the manufacturer no studies have been found showing any harmful effects to the eyes when the device is used correctly. However, it is recommended that you close your eyes and do not stare directly into the LED's.

 

Can I use it if I have sensitive skin?

Yes, but it is recommended that you follow a sensitive skin protocol.  After placing your order please email Victoria@revealgreatskin.com and let me know that you need the sensitive skin regimen.

 

Why can't I see light from some of the LED's?

You cannot see them because they are in the infrared spectrum (880nm) which is not visible to the human eye. When the red lights are on, the infrared lights are on as well and working properly.

 

Can I combine the DPL Therapy System with other skin care?

Yes, it can be used alone or with other skin care treatments. Many doctors have found that the DPL Therapy System (red light therapy) complements other treatments.

 

Will the DPL Therapy System hurt? 

No, unlike lasers or other ablative (skin damaging) treatments, the DPL® Therapy System is non-invasive and non-ablative. The lights on this red light therapy system gently warm the skin but do not get hot. There is absolutely no pain and no down time.

Can the DPL Therapy System be used for pets?

Yes, the DPL Therapy System and the dpl Flex System can be used to treat pets.   Click here to learn more about the dpl Flex System and pet pain relief.

How do I clean the unit?

Unplug your red light therapy unit before cleaning and don't submerse the unit in liquid (this will void your warranty.) Use rubbing alcohol on a paper towel or soft rag and gently clean the surface.

 

Is there a warranty?

Yes, the manufacturer states "LED Technologies, LLC warrants that your product (The DPL Therapy System) will be free from defects in materials and workmanship for one year from the date of purchase by the original owner. This warranty covers the original purchaser only and is not assignable or transferable to another party."

Please complete your warranty card upon receiving your LED red light therapy system and save invoice for proof of purchase. The 2-panel LED unit comes with a 1-year parts and labor warranty.

International orders are responsible for shipping and handling charges.

Owner and heirs of RevealGreatSkin.com are not responsible for any liability in connection with the use, or improper use of the LED system.

What is the return or cancellation policy?

45-Day money-back guarantee Terms on all Returns: Save your  invoice. All returns must be issued an RMA# within 45 days of purchase. Without an RMA # your return cannot  be accepted. To be issued an RMA#, you acknowledge the terms noted herein. All items must be included in box and in new condition. RETURNED  LED's will be charged a 25% restocking fee.   Return shipping is your responsibility and is non-refundable. Unit must received within 10 days of issuing RMA#. Please email  info@revealgreatskin.com   include your  full name, country and date of purchase in your email and we will forward return  instructions.

Please note: if the original packaging is not returned with the item, we may charge up to a 35% restocking fee in order to replace those supplies. Shipping charges will be deducted from original price on all free shipping items returned.

No returns will be accepted after the stated return period.

"Open Box Units":  On the rare occasion that we receive a returned "open box" unit in new condition containing all original package contents we will offer it at a huge discount.   These units cannot be returned.  Please email info@revealgreatskin.com if you are interested in being put on a wait list.

Cancellations: All orders are automatically processed through our secure merchant processor which incurs fees. If you cancel your order BEFORE it has been shipped, you will be assessed a small cancellation fee of $5.00  before credit is issued. We are very sorry, but we cannot accept cancellations if your order has already been shipped. Orders which are refused at delivery will NOT be credited. S & H and freight delivery costs are non-refundable. We are sorry but there are no exceptions.

Bulk orders of 2 or more of the same unit cannot be returned.

Medical Precautions for Red Light Therapy

If you have been diagnosed or suspect thyroid problems do not use the red light therapy unit over the thyroid gland (neck area.)

Do not use red light therapy if you are taking medication that may cause photosensitivity reactions.

1. Consult your doctor prior to using, especially if you:

a. are pregnant,

b. are taking drugs known to cause

sensitivity of skin to light,

c. have any suspicious or cancerous lesions,

and/or

d. recently had a steroid injection or use topical

steroids.

2. Individuals using aspirin, ibuprofen and other similar drugs

for pain or individuals with skin conditions may experience a

mild "flare up" of their symptoms and should stop DPL™

therapy.

3. Read all instructions and safety precautions before using the

DPL™ Therapy System.

4. Do not use on infants.

5. If you experience discomfort or have a concern about its use,

stop use immediately and contact your doctor.

6.  Thyroid:

The light works under the skins surface and will increase circulation.

For those that have a "slow" thyroid the use of the light will stimulate and increase circulation… which is actually what you are trying to accomplish.  For those with a slow thyroid the light may actually help.

For those that have a "fast" thyroid and may be on medication to slow it down you will want to avoid using the light on the nape of neck and cover that area with a thick (rolled) towel.  Or avoid that area completely.

7.   For anyone concerned using the light due to medical conditions we will always recommend that you consult with your physician as they will have  access to all your medical issues and conditions.

I know you are in a hurry to get beautifully youthful skin and the longer you wait the older your skin gets, so get your DPL® Therapy System today!  You will love how you look and feel after using your red light therapy system.

More Testimonials

I am very excited to see that my pores have reduced in size. LM/Michigan

The system is working really well and is definitely helping with my acne, wrinkles and Rosacea. MD/Texas

I bought the system for blotchy skin, moles and wrinkles. My discoloration has cleared up.  I see my moles and dark spots fading. Overall my face has really improved. I'm a long-term girl" and loves the system. KP/Kansas

Both my wife and I have seen a reduction in age spot and overall our skin looks and is much healthier. I'm also using it for pain relief from carpal tunnel that I have in my arm and it works great. BD/California

I love the system and have been so thankful that I purchased it. I have it put together and available in the house and someone is always using it. My daughter has seen great results in her acne. She uses it regularly and can feel it working. Her skin has improved a lot. I had to use customer service earlier for a warranty and they were extremely helpful and the service was fast. JZ/California

I have the system set up so I can use it daily. I've seen great results for my wrinkles and fine lines and have recently been using it for bruises and an old scar that I'm trying to lighten. So far so good. I am real pleased with how well it works for bruising and having the system is really a plus.
MN/California

I recently had two teeth extracted, one of which was difficult to remove.   It resulted in a very swollen lip and a very sore jaw and mouth, which did not seem to be healing after a week.    When I tried the DPL Therapy, I noticed that my lip and cheek did not hurt as much–almost immediately.  By the next day the jaw and cheek were fully healed.  This was my first experience with the DPL Therapy, and I was stunned at how well it worked.  Ginger C . Colorado

A short note to advise you of how I successfully used your product. In short, I had badly bruised the bottom of my feet walking barefoot on a river rock pavement. Walking after this was very painful. I decided to try your DPL panels by placing them on the floor and resting my feet on them while sitting. Some relief was apparent after the first use, and after about three or four days I was able to walk with little discomfort. With continued use the soreness was gone.  On another occasion after having strained my shoulder lifting a heavy object, applying the panel to the sore muscle also provided noticeable relief.  Thanks for coming up with this product. It has worked for me.
Edward J Skurzynski

The system has been well worth the money. It really does what it says it will do. My wrinkles and fine lines around the eyes have tightened and improved. I am very happy and satisfied with the DPL™ and it really helps. MR/Washington

Using the system has changed my life. It has plumped up my face and evened out the color. I've noticed the fine lines and wrinkles are removed and it has helped lift my face. I still use it once a day.
JP/MT

I have been using the DPL for several months now and I love what it has done for the tone and texture of my skin. While researching devices similar to the DPL I discovered testimonies that this type of device could help with pain and healing. Well, about a month after I started using the DPL for my face, I sprained my ankle pretty badly. I decided after about a week of pain that I would experiment and try it on the bad ankle. I was absolutely amazed when the day after I gave the ankle two DPL treatments there was no pain. I have had absolutely no further problems with the ankle! SS

I believe in this product 100%. My skin looks and feels plumper and more taut. I'm never without my DPL – I even travel with it. Love it, love it, love it.
MS – Pennsylvania

I'm 79 years old and within a couple of weeks my skin looked so much better. It puffed up my skin making my wrinkles and lines around my mouth disappear.
LL/Tennessee

I bought the system as an experiment for my rosacea and it really helped it. Anyone with rosacea should try this system. It has also helped with my veins that I was seeing a dermatologist for. I don't have to go as often know since using the system.
ST/Illinois

I bought the system specifically for adult acne and aging. I have seen such great results that I bought a system for my daughter. It is a phenomenal machine.
CI/Florida

I have seen dramatic results from using the DPL™. I have rosacea and it helped keep that under control. I get lots of compliments on my skin and how young I
look. I've also found it gives me relief from sinus pain and pressure. I am a senior and I've been asked on several occasions to show my ID because they didn't think I was over 60. It was well worth the money.
DS/MT

Both my husband and I use the system daily. It is amazing. My husband had many brown age spots and they are totally gone.  Family members have noticed and asked what he did to make his skin look so good. A family member who is married to a physician was asking about the DPL™ . He told her to get one right away because he knew the benefits of the red and infrared lights. We still each use it once a day and we recently took it with us on a trip. We wouldn't be without it. We are amazed and thrilled with the purchase of the DPL™ system.
KH/MT

Like a lot of senior citizens, I have pain in my knees. They not only ache, but they sometimes feel as if they're going to buckle. The DPL Therapy system is a big help in reducing the pain in my knee joints, and in soothing the leg cramps that sometimes go with it. I'm especially grateful for the Velcro strap that lets me tie the DPL panels in place on sore knees.  The strap is very comfortable and secure and keeps the panels from sliding down or falling off while I'm sitting on a
chair or lying in bed.
Gloria Skurzynski

Discontinued – Please Click Here for the NEW DPL II!