This post may contain affiliate links. I may receive commissions for purchases made through links in this post. I will never recommend any products that I don't believe in. Please read my Disclosurefor more info.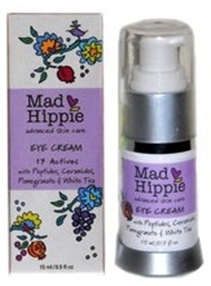 Three are basically 4 things that bring me great joy; a peaceful nights sleep, my children playing joyfully together, a nice warm cup of tea, and believe it or not a decadent eye cream.
Yes, I said eye cream.  Finding an effective eye cream that feels great, absorbs quickly, reduces wrinkles, doesn't cause milia, doesn't have an exorbitant price tag, and doesn't contain any harmful ingredients is quite honestly nearly impossible.  But, I have just stumbled upon one that happens to fit the bill.
Mad Hippie was gracious enough to send me their eye cream to try and let me tell you that it is truly a fantastic cream.  It contains a combination of superb anti-aging ingredients without any harmful chemicals or parabens.
Mad Hippie loaded this cream with 17 active ingredients including peptides (Matrixyl 3000), vitamin A, vitamin C, vitamin E, vitamin K, and argan oil just to name a few.  This incredible lineup of ingredients helps to reduce dark circles, diminish wrinkles, tone, firm, and soften the skin surrounding the eyes.
The texture is sublime as it gently and easily glides onto the skin.  It quickly soothes tired eyes helping them look refreshed and renewed.  Something I dearly need on those mornings when I have not had the joy of a restful nights sleep.
Benefits:
Boosts collagen production
Reduces dark circles
Prevents free radical damage
Diminishes puffiness
Reduces wrinkles
Soothes
Smoothes
Moisturizes
It's a great eye cream with a great price that is gently yet effective and can be applied both a.m. and p.m.  It is incredibly hard to find a good anti-aging eye cream.  Mad Hippie hit a home run with this one.  It's a wonderfully rich and nourishing eye treatment that gives you beautiful skin around your eyes .