This post may contain affiliate links. I may receive commissions for purchases made through links in this post. I will never recommend any products that I don't believe in. Please read my Disclosurefor more info.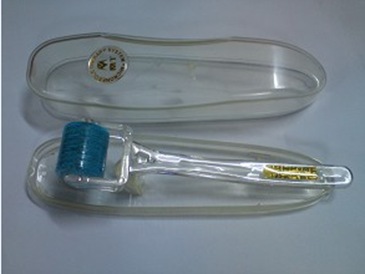 The Microneedle Roller has been shown to drastically diminish fine lines, wrinkles, scars, pore size, cellulite, and stretch marks.  In fact clinical tests have shown that this unique tool is more effective at stimulating collagen and elastin production than intensive treatments such as laser resurfacing, dermabrasion, and chemical peels.
Right now you can get an INCREDIBLE deal on the Microneedle Roller.  Until Sunday 12/11/11 you can get 77% off.  Regularly $110.00, you can now get it for $24.95.  That is an INSANE deal and one you just can't pass up.  If you have ever considered trying this amazing tool then now is the time to do it!
The Microneedle Roller helps to boost collagen and elastin production, thickens your skin, and helps serums penetrate deeper and work more effectively.  Clinical studies conducted in South Korea, Europe, and the U.S. discovered that the Roller can increase serum absorption by a whopping 1,000 times.
The roller, used by celebrities and high end beauty professionals, uses incredibly fine needles which penetrate just far enough to jump start your collagen and elastin production.  With an increase in collagen you can expect to see the signs of time fading into the past, which is just where they belong.  It's a fantastically unique way to greatly reduce the signs of aging and have beautifully younger and healthier looking skin.
Benefits:
Diminishes lines and wrinkles
Reduces and softens acne or surgical scars.
Diminishes the appearance of cellulite and stretch marks
Reduces large pores
Smoothes uneven skin texture, uneven skin coloration (pigmentation), and pitted skin
Reverses the effects of sun damage
Stimulates hair follicles and helps to keep thickness when used on head and helps with thinning and balding hair areas
Simulates elastin and collagen production