This post may contain affiliate links. I may receive commissions for purchases made through links in this post. I will never recommend any products that I don't believe in. Please read my Disclosurefor more info.
Add Omega-3s to Your Diet And Promote Glowing Skin.
Omega-3 fatty acids are well known for preventing heart disease and inflammation in the body, but did you know that dermatologists are recommending them for the skin as well?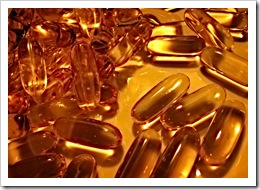 Omega-3s help heal dry skin as well as the rough, red, scaly patches of psoriasis or eczema. They are an integral part of the membranes that surround your skin cells and help in maintaining supple and smooth skin. When the membranes of your skin cells aren't healthy, it shows in your outer appearance with skin that looks far from healthy.
Our bodies are not able to produce these essential fatty acids so its important that you get them from your diet by including salmon, mackerel, and albacore tuna 2-3 times a week in your menu or you can get them from supplements (1,000 milligrams a day.)
Omega-3s also aid in the production of hormones that improve skin texture as well as helping to combat damage that has been inflicted on your skin cells by free radicals. Your skin is constantly under attack by free radicals that seek out and damage your skin cells.
In one study published by the British Journal of Dermatology volunteers suffering from severe dermatitis took high levels of omega-3s and saw a 30% decrease in their symptoms. Other research has shown similar results for individuals suffering with psoriasis.
Taking care of your skin from the inside as well as from the outside is a balanced approach for healthy, glowing, and youthful skin. Adding omega-3s to your diet is a simple step in your daily or weekly routine that can make a big difference in your quest for beautiful skin.