This post may contain affiliate links. I may receive commissions for purchases made through links in this post. I will never recommend any products that I don't believe in. Please read my Disclosurefor more info.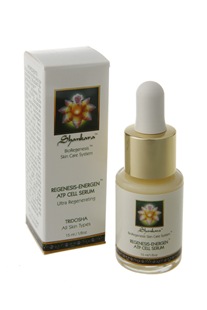 Shankara ATP Cell Serum
This natural anti-aging serum is an incredible addition in the fight against aging.  It has an exclusive and proprietary complex that stimulates collagen production, thickens your skin, and provides astounding deep tissue repair and regeneration.
ATP (Adenosine Triphosphate) jumpstarts cellular metabolism and really sparks a drastic age-reversal process.  ATP is necessary for every cell in the body and is the catalyst for every cell function.
As you age, your levels of ATP decline resulting in skin that looks dull and lifeless.  Shankara ATP Cell Serum drenches each and every cell with a natural form of ATP, stimulating their reparative functions.
ATP is only one of an incredible number of amazing ingredients that are blended together in this unique anti-aging serum.  It's loaded with antioxidants, minerals, sea algae, and vitamins A, C, and E.  Clinical tests have shown significant line and wrinkle reduction and a drastic increase in hydration and oxygenation.
It has a light texture with a naturally earthy aroma that sinks in quickly.  Other products can easily be layered over this amazing serum.  I even apply it directly under my eyes with absolutely no puffiness or irritation.  All of the products in this line are of exceptional quality.  I layer this serum over the Shankara Cell Activator and have had phenomenal results. 
Benefits
Stimulates collagen and elastin
Deeply hydrates and oxygenates
Increases skin's thickness
Drastically reduces lines and wrinkles
Active Ingredients:
ATP (Adenosine Triphosphate) supports and encourages normal skin cell metabolism for regeneration and repair.
Vitamin C Ester and vitamins A and E protect your cells against free radical damage as well as stimulating collagen production, increasing skin thickness, and firming the skin.
Algae extracts moisturize, hydrate, oxygenate, and fight free radicals.
Energen complex regenerates, energizes, stimulates collagen production, and oxygenates your skin cells.
This is an incredibly unique anti-aging serum that awakens and rejuvenates your skin giving it a beautifully youthful glow.  It's packed with amazing ingredients and compliments any skin care regimen.  I can't say enough good things about this line of products.  There is no other line out there, that I have found, that is even similar to Shankara, it's truly one of a kind.