This post may contain affiliate links. I may receive commissions for purchases made through links in this post. I will never recommend any products that I don't believe in. Please read my Disclosurefor more info.

The Skinvel LED Ultrasonic Massager Lifts, Tones, and Diminishes Wrinkles!
The Skinvel LED Ultrasonic Handheld Massager is a new anti-aging skin care device that offers powerful anti-aging benefits all rolled into a beautifully small and convenient tool. It offers a gentle and relaxing means for transforming your skin easily in the comfort of your own home. It helps anti-aging products penetrate into the skin more efficiently and works at a cellular level to improve the appearance of your complexion.
The ultrasonic waves at 3 MHz massage and drive your anti-aging skin care products deeper into the skin where they can then fight aging more effectively. With a vibration of three million frequencies per second, the Skinvel Ultrasonic LED Massager breaks apart the skin care fluid into tiny particles making it easier for them to penetrate into the layers of the skin.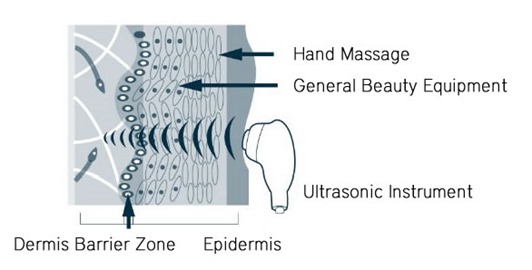 Then for an added anti-aging boost, the ultrasonic probe is encircled with red LED (light emitting diode) lights. As you slowly move the massager over your face, jawline, and neck, the LEDs penetrate into the skin prompting your cells to stimulate collagen and elastin synthesis, increase circulation, and ignite reparative processes.
The combination of ultrasonic frequencies and anti-aging red LEDs is an incredibly powerful duo in the fight against the hands of time and gravity.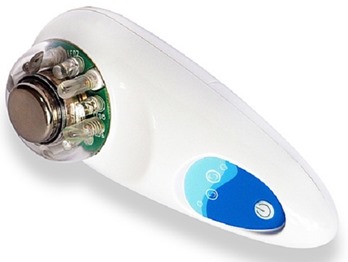 Benefits of the Skinvel LED Ultrasonic Massager:
Lifts and tones
Diminishes lines and wrinkles
Fades age spots
Brightens
Firms
It really creates a wonderfully relaxing spa experience as the massager glides over your skin and emits tiny ultrasonic waves. I love the way it feels as the frequencies gently pulse on my skin and drive my favorite skin care products deeper into the layers of the skin.
I recommend cleansing your skin, applying your favorite anti-aging lotion, and then massage a carrier oil (argan oil, rosehip seed oil, grapeseed oil, etc.) along with an aromatic essential oil (lavender, bergamot, grapefruit) to enhance your spa experience, over your anti-aging skin care. This will help the massager glide more easily over the skin so it doesn't tug or pull, especially around the eyes.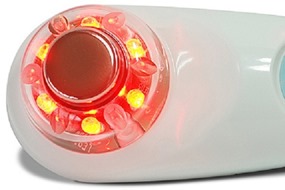 It only takes a few minutes a day to make a huge impact on your skin. I have to say that I really enjoy using the Skinvel LED Ultrasonic Massager and I love the difference it makes in my skin. It's a great size, convenient for travel, and super easy to use. Sounds pretty great right? It really is! If you're interested in learning more or purchasing your own, click on this link.