This post may contain affiliate links. I may receive commissions for purchases made through links in this post. I will never recommend any products that I don't believe in. Please read my Disclosurefor more info.
Things are incredibly tough for millions of people right now but that shouldn't mean you should have to sacrifice feeling beautiful.  There are anti aging eye creams out there that are effective and won't break the bank.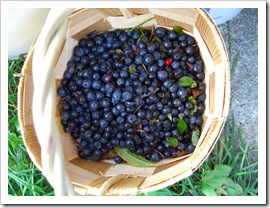 I recently discovered an eye cream that is less than $20 and does a fantastic job of nourishing my eye area.  It is loaded with organic anti-aging ingredients as well as antioxidants.  For the past few weeks I have been using Yes To Blueberries Age Refresh Eye Firming Treatment and I have to say that it has surpassed my expectations.  It has a fabulous consistency and absorbs beautifully into the skin.
As far as inexpensive eye creams go, this one tops my list and is one of the best that I have tried.  It is gentle and hasn't caused any irritation or milia.  It fights fine lines and wrinkles, firms the skin, protects the skin from free radicals, and deeply nourishes the eye area.
Yes To Blueberries Age Refresh Eye Firming Treatment contains a plethora of fantastic organic ingredients.  A few of the ingredients from this impressive list are below:
Blueberries
Blueberries are rich in antioxidants such as vitamin C and Anthocyanins which fight off free radicals and keep them from damaging your skin.
Paracress Flower
The Paracress flower helps to firm and rehydrate the delicate skin surrounding the eye.  It helps to reduce the appearance of fine lines, wrinkles, and crow's feet.
Beeswax
Beeswax has soothing and healing properties and provides much needed hydration.  Beeswax also promotes the retention of moisture in the eye area.
Olive Fruit Oil
Olive fruit oil is rich in Oleic Acid which has the ability to regenerate skin cells as well as attracting moisture to the skin.
If you would like to see the full list of ingredients you can check it out here.
Yes To Blueberries Age Refresh Eye Firming Treatment really gets in there and nourishes the skin.  It's gentle and can be worn both a.m. and p.m.  I love the fact that this anti aging eye cream is paraben free and fights the signs of aging naturally.
If you are looking for an eye cream that is budget friendly, natural, and effective then take a look at Yes To Blueberries Age Refresh Eye Firming Treatment.  For less than a family meal at McDonalds you can do something good for yourself without spending a lot of money.