This post may contain affiliate links. I may receive commissions for purchases made through links in this post. I will never recommend any products that I don't believe in. Please read my Disclosurefor more info.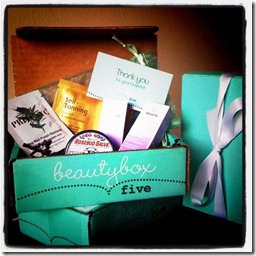 Beauty Box 5 (BB5) is an incredibly cool membership site that gives you the opportunity to try new products without leaving your home.  Once a month they send you 4-5 good sized samples right to your door.  It's a wonderful surprise in a beautiful box and contains exciting products for your try ranging from skin care to makeup, hair products to fragrances.
It's a really fun way to see what products are hot right now, which ones work for you, and which ones you can pass on without wasting money on full sized products that don't work.  Imagine giving or receiving this membership for a gift.  Every month when that special person receives her package (or you receive yours) she will think of you and truly appreciate your gift of kindness.
Beauty Box 5 is a classy site that scours the globe searching for the hottest and best items so that you don't have to.  They send you samples from department stores, up and coming lines, and some of the best kept secrets.  You will be able to try products and see which ones give you beautiful skin, hair, nails, etc.
For a small monthly fee you get to stay on top of the best of the bet and look gorgeous doing it!  You don't have to waste gas money, time, or energy driving all over trying samples and pleading for stores to let your take some samples home.  BB5 makes it easy for you.
What can you expect in your BB5 package?  You can receive any combination of the following:
Skin care
Makeup
Hair care
Fragrances
Nail products
Smile care
Body care
Beauty tools
And much more….
BB5 is really a fantastic way to try new products and really FUN to receive each month.  If you enjoy trying new items then Beauty Box 5 might just be worth a try.